Beppu travel guide
Beppu is one of the most famous Onsen resort in Japan.
Beppu Onsen resort is located on a slope from mount Tsurumi to facing Beppu Bay
where onsen steam rising from any places.
Boasting more than 2,800 hot spring sources and flowing rate of nearly 137,000
kiloliters per day, Beppu is considered a paradise of hot springs famous for
high therapeutic effects.
The most recommended experiences are go up to Mount Tsurumi and Hell tour.
The town is divided into eight major hot spring areas collectively called "Beppu Hatto", which 
offer beautiful scenery and various type of water of different qualities.
The most famous sights are Jigoku Meguri or (Burning Hell)  tour.  A collection of hot springs
where the water bubbles forth from underground, often with unusual result. Seven of the hells
are located in the Kannawa district where over 4 km northwest of Beppu station, and two in
the more remote Shibaseki district.    
| | | |
| --- | --- | --- |
|    Umi-Jigoku |    Umi-Jigoku |     Oniishi Bouzu-Jigoku |
---
     Yama-Jigoku

    Kamado-Jigoku

 

        Oniyama-Jigoku
---
| | | |
| --- | --- | --- |
|      Chinoike-Jigoku |     Tatsumaki-Jigoku |      Shiraike-Jigoku |
---
Have you tried Foot bath before?  

Foot bath is called Ashiyu in

Japanese and is a public bath 

in 

which 

people can bath their feet.  

Ashiyu in Beppu set up at Kannawa Onsen near the Hell
---
The most popular public bath in Beppu. You can enjoy various

type of Onsen including the sand bath.
---
The Onsen resort town where the Yunohana or Alum have been

collected since more than 200 years ago.  Myoban means Alum

in Japanese. Myoban is a geothermal area located at an altitude

of 400 metre at the middle Garan mountain and a little away from

the centre of Beppu.
---
Jigoku Mushi kobo
Jigoku Mushi, literally "hell-steaming" is a unique cooking method

found in Beppu. The ingredients such as vegetables, seafood and

meals are cooked using the steam from natural hot spring You

can operate the steam cookers all by yourself and you can cook

whatever you want.
---
Soaring 1375 metres into the sky, Mount Tsurumi is a breath taking

mountain overlooking Beppu that offers some decent hiking, rare

flora and outstanding vistas. Visitors can take a ropeway 800 metres

up and revel in being surrounded by acres of rolling greenery.
---
About 1700 wild Japanese monkey are living in the park. The monkeys

are fed regularly by park wardens in order to keep them on the mountain

and prevent conflicts with farmers and residents in the neighborhood.
---
Enjoy local specialty cuisines in Oita-prefecture
   

Bungo Beef

 Seki  Aji & Seki Saba,

 mackerels

  Oita fugu, blowfish
---
Address

City hall  : 1-15 Kaminoguchi-cho, Beppu-city, Oita-prefecture

Access

20 minutes by a vehicle from Yufuin-city

100 minutes by a vehicle from Aso-city

160 minutes by a vehicle from Kumamoto-city

120 minutes by a vehicle from Fukuoka-city

100 minutes by a vehicle from Kitakyushu-city

Population

119,000   Population density 950 / km2
---
Beppu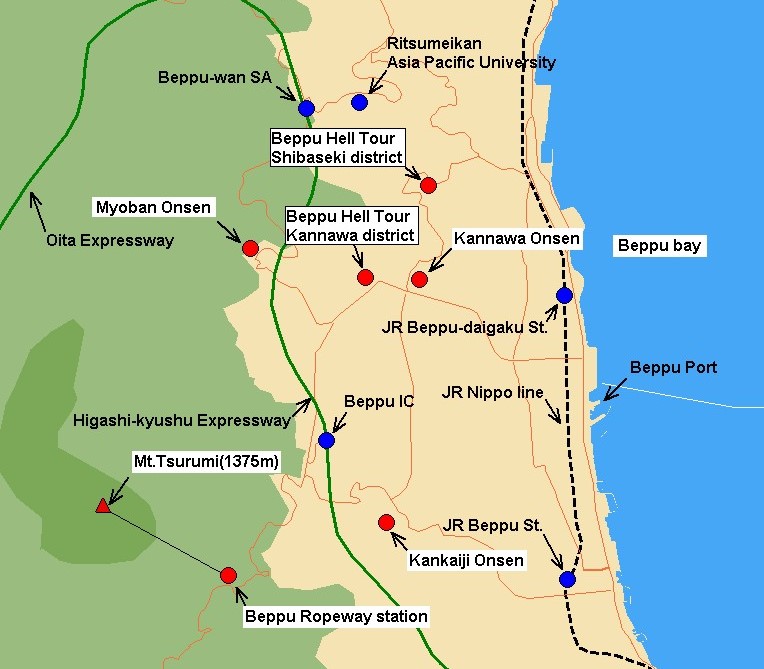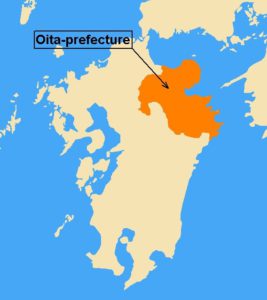 ---
Home  Tailor-made tours Study tours Christian Pilgrimage tours Golf tour   Kyushu tour packages
---