Day 4  Amakusa & Kumamoto 
                                                                                                  Nagasaki Pilgrimage 6 days tour  
Amakusa, is located in a southern part of Kumamoto-city, and consists of Shimo-jima,
Kami-jima and many other islands varied in size, which belong to Unzen-Amakusa 
National Park along with Unzen. 
Amakusa has the Christinan Pilgrimage sites where Christian faith
continued even during the ban on Christianity, Sakitsu Village has been registered on
UNESCO World Heritage / Hidden Christian Sites. 
---
Itinerary
8:00 Depart Hotel 
Visiting Hidden Christian sites in Amakusa
Travel Amakusa Gokyo / Pearl line
Transfer to Kumamoto
Exploring Kumamoto 
Stay in Kumamoto
---
Where to visit
The oldest Catholic Church in Amakusa and was one of the first churches built right after the ban
on Christianity was lifted. The Romanesque-style architecture and the chalky white structure was
rebuilt in 1933 by a French missionary priest named Father Garnier using his own money and
contributions from local Christians living in the area.
---
Sakitsu Village  / UNESCO World Heritage
A Gothic-looking church is located on a cove of a fishing village. In 1934, a French priest Augustin
Halbout MEP purchased the premises of the former village headman and built a wooden and
concrete finished church, with Tetsukawa Yosuke's design and construction. He placed the altar
at the very site where fumie or a test to ensure non-allegiance to Christianity had been conducted.
---
The theme Museum shows History of Christianity in Amakusa and Shimabara Rebellion in
Harajo Castle Ruins which was a peasant uprising agaist bakufu's persecution of Christians
under the leadership of Amakusa Shiro in 1637.
---
Josaien is located in Sakurano-baba, at the foot of Kumamoto Castle, one of Japan's three
major castles. It is a popular tourist attraction designed to enhance the appeal of the old castle
town and convey to visitors the food, history and cultural traditions of the region from Kumamoto
Castle, a symbol of the Kumamoto-city.
---
The Castle is one of the three great castles and one of the 100 best places in Japan to view cherry
blossoms. Due to the Earthquakes in 2016, several of the castle's shacihoko ornaments were
destroyed, and a large number of kawara tiles also fell from the roof. Now the restoration activities
are being performed as fast as possible. Now, the Kumamoto Castle can be seen from the outside
of the moats surrounding the castle.
---
Amakusa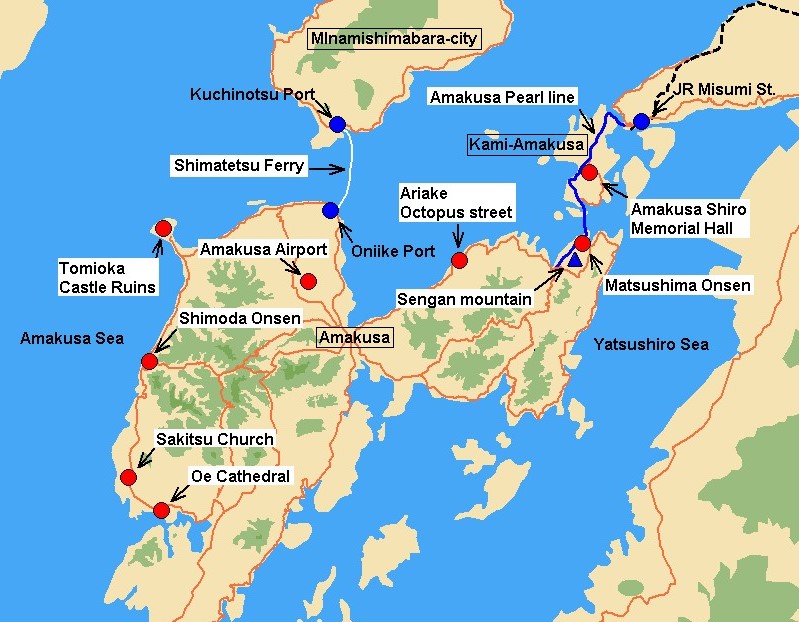 ---
Kumamoto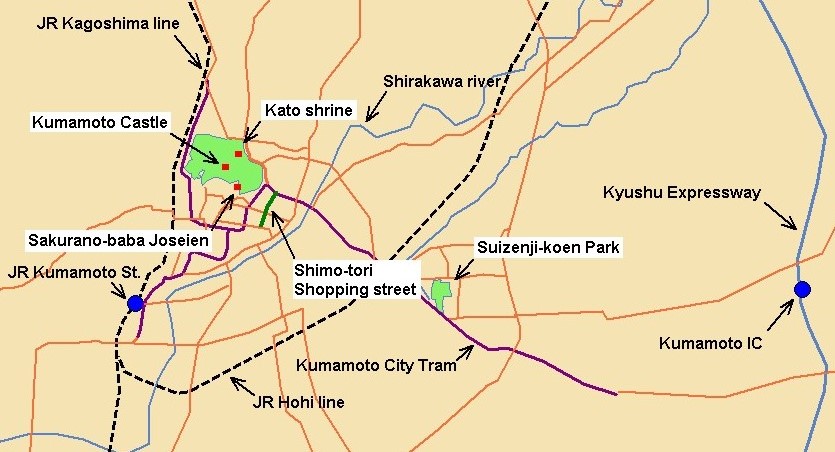 ---