Day 5 Hirado
                                                                                                 Nagasaki Pilgrimage 6 days tour 
Hirado off the North West coast of Nagasaki-prefecture is a beautiful and historic location
full of interesting museums, Christian churches, white sandy beaches and an imposing
castle. Portuguese ships first landed in Hirado's superb natural harbor in 1549 and
St. Francis Xavier is known to have visited in 1550. In the 1580s, the Portuguese established
a trading station, followed soon by the Dutch and the British. 
---
Itinerary
Depart Kumamoto
Transfer to Hirado
Visit Tabira Church
Lunch at Hirado, local delicacy sea food
Exploring Hirado
  St Francis Xavier Memorial Church
Stay at Hirado
---
Where to visit
The church was designed by Tetsukawa Yosuke, a famous architect of various churches
in Nagasaki-prefecture, and built between December 1915 and October 1917. It is one
of the latest brick churches in the prefecture of Nagasaki. Tetsukawa Yosuke has called
this one of his best works.
---
Lunch at Hirado
local delicacy sea food
---
The museum stores and displays the historical collection of the Matsura family who ruled over the
northern area of Nagasaki prefecture since the 13th century. The museum is housed in the former
private residence of the Matsura family, the grand Tsurugamine Mansion, built in 1893. Hirado has
a long history of overseas exchange due to its geographical location.
---
St. Francis Xavier Memorial Church
This church is a catholic church in Hirado, Nagasaki. Hirado is a place where Francis Xavier visited
3 times in Japan to spread Christianity, and even during the Kinkyo Ordinance of the Edo Period
that prohibited religions, Christianity was very widespread. For that reason when the ordinance was
lifted this church was constructed, and the image of Francis Xavier was put on the side.
| | | |
| --- | --- | --- |
| | | |
---
Set up in Hirado in 1609 as the base of operations of the Dutch East India Company in Japan. The
building seen today is a warehouse which was originally constructed here in 1639 as part of the
trading post, but torn down just three years later after the Dutch had been relocated to Dejima Island
in the port of Nagasaki.
---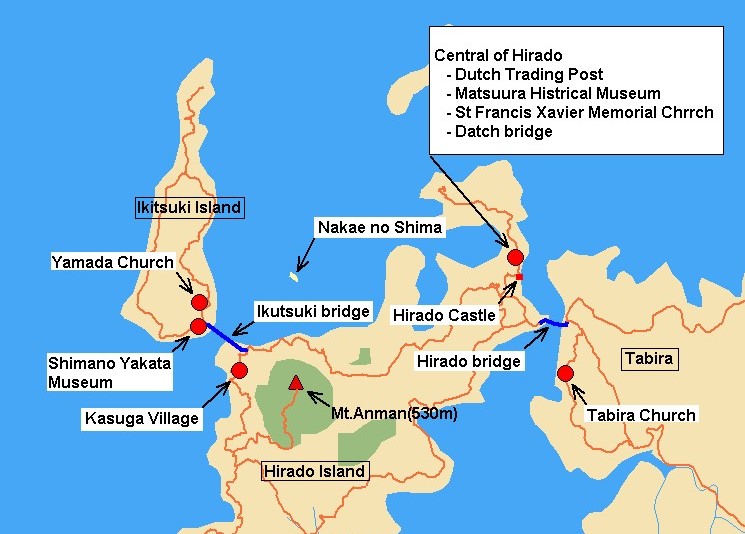 ---