Day 6 Hirado
                                                                                                Nagasaki Pilgrimage 6 days tour 
The island had been an important port for trade with Korea and China since earlier
times, with the rights to foreign trade held by the local Matsuura clan. William Adams
was instrumental in establishing the British trading post and he is buried on the island. 
The British stayed only ten years before leaving after bitter feuding with the Dutch, who
were moved to Dejima in Nagasaki by the Japanese authorities in 1641.
---
Itinerary
Depart Hotel
Exploring Hirado 
  Nakae no Shima  
Transfer to Fukuoka
Arrive at Hotel in Fukuoka
---
Where to visit
Stands on a hill guarding Hirado Port and the Hirado Strait, which used to be part of an important
trade route between Japan and the Asian mainland. The original fortress was built in 1599 by the
local Matsura Lord; however, he destroyed the structure after fighting the Tokugawa on the losing
side of the Battle of Sekigahara as a gesture of loyalty to the victor. The Matsura Clan continued
ruling Hirado for the next two and a half centuries.
---
Nakae no Shima / UNESCO World Heritage
Located two kilometers off the coast of Hirado Island, Nakae no Shima is a small, uninhabited island
where religious leaders were executed during the persecution of Christians. The island is considered
sacred, and water collected there is used for baptism.
---
Kasuga Village / UNESCO World Heritage
This idyllic, remote village was refuge to a small community of Hidden Christians who practiced here
for centuries, far from the prying eyes of the government. After the ban on Christianity was lifted, the
local villagers decided to continue practicing their own unique brand of the religion rather than rejoin
the Catholic Church. As a result, churches were not erected in the village, and the religion remains
outwardly invisible.
---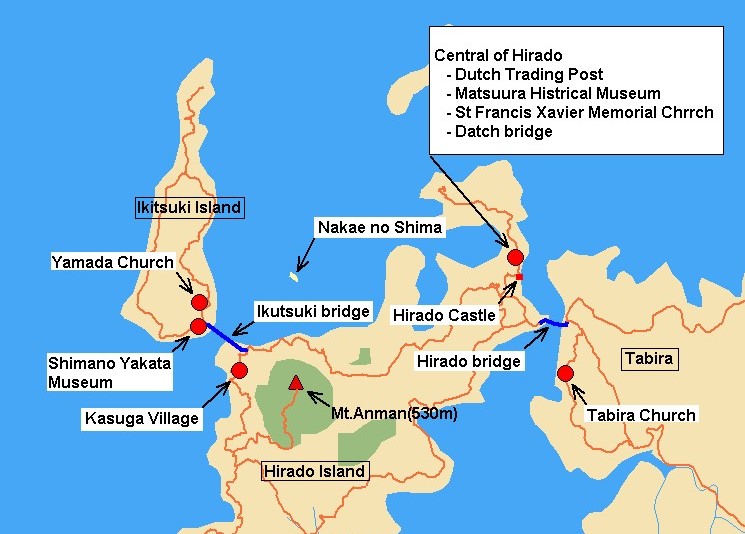 ---