Fukuoka travel guide
Fukuoka is the biggest city in Kyushu and the energetic city bustling as the center of Kyushu's
politics, economy, culture, fashion as well as tourism. Fukuoka-city has many kind of fascinating
tourist attractions and abundant tourism materials which are different from the other destinations
in Kyushu. When visiting Kyushu, Fukuoka-city is the place to be incorporate in the travel plan.
And due to its location Fukuoka-city is the great starting point for exploring Kyushu.
---
Welcome to Fukuoka, enjoy shopping and meals
---
Where to visit
Teramachi district
One of the most exciting summer festival in Kyushu, Hakata Gion 

Yamagasa is held in the shrine in July. The tall Kazari Yamakasa,

a luxuriously decorated float, is always displayed

which was constructed without using even a single nail.

 
Hakata Machiya Furusatokan

It is a folk museum depicts the life and culture of Hakata Fukuoka.

Exhibition hall, many faces and facets of the Hakata way of life can

be found, Machiya hall, is a superb example of traditional architecture

and has been moved here and restored to provide a glimpse into the past.

 

Tochoji Temple

The Temple was founded in 806 by Kobo-daishi Kukai and it is the oldest

temple of the Shingon sect in Japan that  Kobo-daishi set up. The Fukuoka

Daibutsu called Great Buddha of Fukuoka completed in 1993 stands 10.8

meters tall and is the largest seated wooden image of Buddha in Japan.

 

Japanese traditional Shopping Street and the entrance of the shopping street

is located next to Kushida Shrine. Approximately 130 shops built in the 400

metre arcade. There are also souvenir shops including Hakata dolls, shops

collected Hakata Gion Yamakasa goods. ​Enjoy lunch, Hakata Ramen at

the birth place of Nagahama Ramen.
---
Seaside Momochi is the water-front resort area, only a 15 minute drive from Tenjin in the
centre of Fukuoka-city.  The park is surrounded by Fukuoka Tower and high rise 
contemporary buildings, all of which help make a modern urban landscape. 
One of the must visit spots is the 234 metre high Fukuoka Tower. It  is

the highest coastal 

tower in Japan and is covered with 8000 two way

mirrors

. 

The observation room located at 

a height of 123m offers a

breath taking and spectacular 360 degree panoramic view of 

Fukuoka-city
The complex facility for the wedding hall, shops and restaurants and

is located in Seaside Momochi Park.
---
Fukuoka castle, was built in 1601.  Part of stone wall and canal, and

the Tamon tower are still left intact as they were back then. There is

also a nice view of the city from the former main Parts of the castle's 

former moats were used to construct nearby Ohori koen Park.
---
Ohori-koen Park is located next to Fukuoka Castle Ruins and close to

center of Fukuoka-city.  The park is complemented by a Japanese style

garden and the Fukuoka City Art Museum. Rich in greenery and encircling

a lake two kilometers in circumference, the park is an oasis for city

residents, who enjoy jogging, boating, bird watching and other activities here.
---
One of the largest entertainment districts in western Japan, bustling at

night with young people and business men and women. Around 2000

eating and drinking establishments including Yatai is crammed in this

area, Neon light reflect alluringly on the Naka River.
---
Food stalls "Yatai"is one thing to enjoy in Fukuoka. Despite a decline

in recent year, there are said to be more than 160. The food stalls have

all kind of food, but you have to try Hakata ramen, usually made with

white soup from pork bone and thin noodles
---
In the middle of Hakata Bay Beautiful flowers can be enjoyable

throughout the year. Rapeseed blossom, Cherry blossom, Livingstone

daisy Poppy, Rhododendro, Marigold, Hydrengea, Plumed cockscomb,

Dahlia, Sunflower, Cockspur coral tree Bougainvillea, Scarlet sage,

Cosmos, Dahlia, Autumn leaves, Scarlet sage, Japanese narcissus,

Japanese camellia, Plum.
---
The aquarium focuses on the aquatic life found around Kyushu. The

main tank is a huge, seven meter deep pool filled with all different

kinds of marine life including over 120 sharks of 20 different varieties.

There are also several outdoor tanks where you can experience

feeding dolphins and sea lions.
---
The sprawling, family oriented public park, located on a narrow

peninsula across the bay from central Fukuoka. The park is made

up of several different areas including flower gardens, playgrounds,

an amusement park with ferris wheel, sports fields, a water park, a zoo

and large open spaces and lawns perfect for picnicking.
---
The Japanese traditional Garden; it was originally built in the 1754

for Kuroda Tsugutaka who was the lord of Fukuoka clan. You can

feel Japanese traditional cultures and enjoy Tea Ceremony.
---
Hakata-za is the theater for Kabuki plays and is located in the Hakata

Riverain in Nakasu It was originally constructed in 1996.
---
Fukuoka Open Top Bus  / Sightseeing bus in Fukuoka
The Open-air deck bus with 3.2m high show you main tourist

destinations in Fukuoka-city. 

The tour is started from Fukuoka City Hall.
---
 General information 
Address

City hall : 1-8-1 Tenjin, Chuo-ku, Fukuoka-city, Fukuoka-prefecture

Cabinet designate city

Access

To main destinations in Kyushu by a vehicle

  Ibusuki :  4 hours and 20 minutes,  Kagoshima : 3 hours and 30 minutes

  Miyazaki : 3 hours and 40 minutes ,  Aso : 2 hours and 20 minutes

  Kumamoto : 1 hour and 50 minutes , Beppu : 1 hour and 50 minutes

  Yufuin : 1 hour and 40 minutes, Nagasaki : 2 hours and 10 minutes

  Saga : 1 hour and 10 minutes ,  Kitakyushu : 1 hour and 10 minutes  

Transportation

Airport

  Fukuoka International Airport

  Fukuoka domestic Airport

JR main station : Hakata Station

Ferry

  to Busan, Korea

  to Iki and Tsushima, Nagasaki-prefecture

  to Goto, Nagasaki-prefecture

  to Okinawa

  to Nigata and Hokkaido

City transportation

  Fukuoka City Subway

  Nishitetsu Bus

  Nishitetsu train 

Population

1,570,000      population density : 4,570 / km2
---
Fukuoka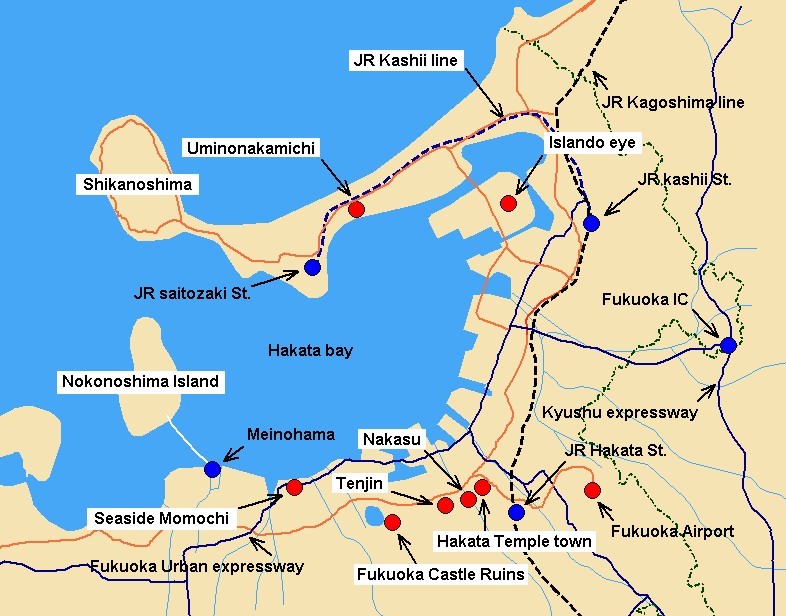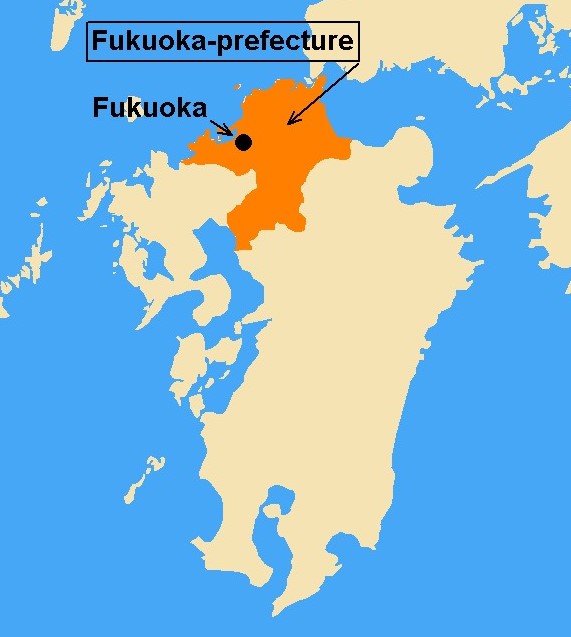 ---
 Home  Our Services   About us   Contact us   Kyushu Travel Guide
---