2 days Yufuin & Beppu Onsen tour
This is the model plan for making your customized tour.
Exploring the most recommended Onsen resorts Beppu and Yufuin. 
The customized tour is planned as per the following conditions.
1) The tour starts from Fukuoka 
  ・less than 7 persons : chartered taxi with English speaking driver
  ・more than 8 persons : chartered bus with Japanese speaking driver,
       English speaking tour guide navigates the tour
3) Accommodation
   ・Type : Western style accommodation, Japanese stye accommodation called Ryokan  
   ・Grade : economy, intermediate or luxury
4) Meals :Japanese cuisines, local specialities
---
Tour Price
To be quoted as per customer's conditions mentioned above.
---
Day 1 Yufuin
8:00 Start the tour in Fukuoka at the designated place

Drive to Kokonoe

Visit Kokonoe Yume Otsurihashi

  the longest pedestrian suspension bridge in Japan and the 2nd longest

  in the World Splendid and beautiful view from the thrilling suspension

  bridge over the Naruko river valley.

Drive to Yufuin 

  Yufuin is is a beautiful and tranquil Onsen resort representing Kyushu and 

  is spreading in the Yufu basin at the mountain foot of Yufu.

Exploring Yufuin

  the avenue is started near JR Yufuin Station and connected to Kinrinko lake.

  Through Yunotsubo Avenue, There are 70 shops, gift shop, galleries, curiosity 

  item shops as well as cafes

  the amusement facility that recreated the street of the Cotswolds region

  in England

  one of landmark in Yufuin. Hot water gushes from the bottom of the lake, 

  and hot steam rises from its surface on a cold day

Stay in Yufuin, Japanese style accommodation included dinner
---
Day 2   Beppu  
After breakfast, check out the Hotel in Yufuin

drive to Beppu where is one of the most famous Onsen resort in Japan

Go up to Mount Tsurumi by the Ropeway

  Soaring 1375 metres into the sky, and a breathtaking view overlooking

  Beppu can be enjoyed

Lunch at local restaurant in Beppu 

  Sea food or Jigoku mushi kobo

Beppu Hell tour experience, the most famous sights, the collection of

   hot spring where water bubbles forth from underground

   Visit Umijigoku and Chinoeke jigoku

Drive to Fukuoka 

18:00 Arrive at Fukuoka, end of the tour
---
Map of Yufuin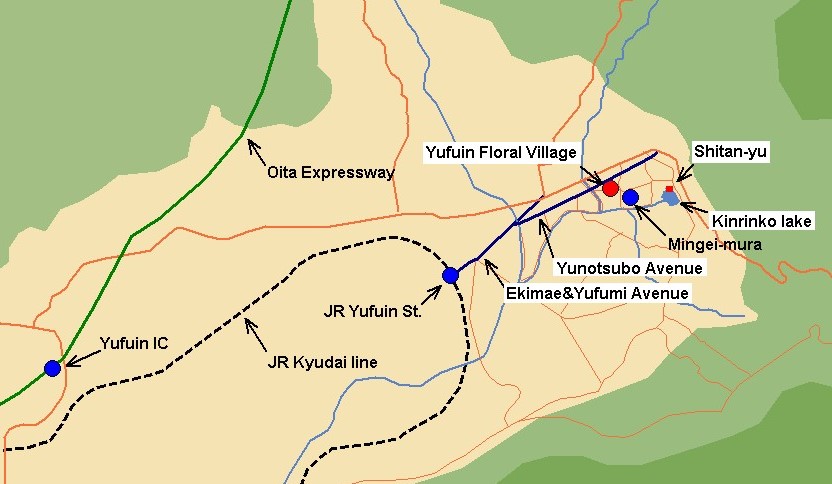 ---
Map of Beppu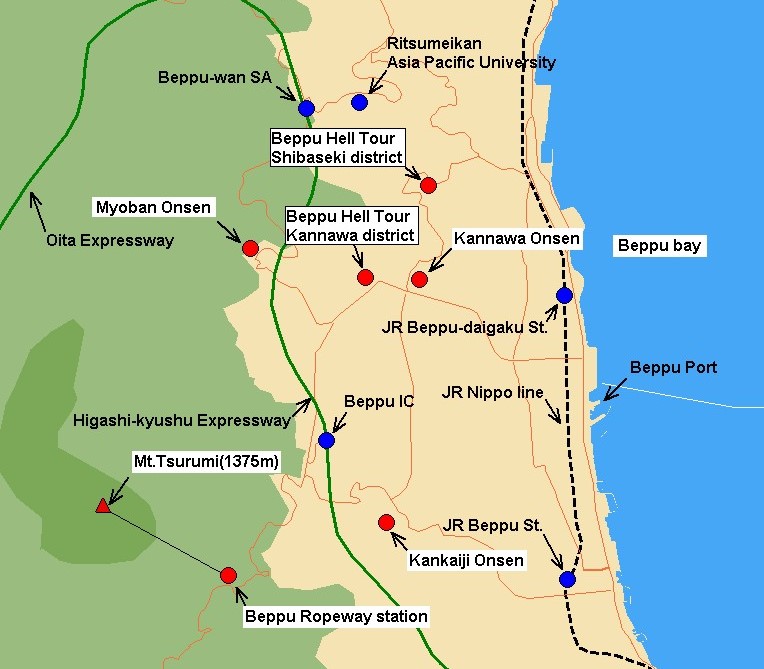 ---
 Home  Our Services   About us   Contact us  Terms and Conditions  Privacy Policy
---