Yufuin & Beppu Onsen 2 days tour
Exploring the most recommended Onsen resorts Beppu and Yufuin starting from
Fukuoka using a private vehicle. Those two Onsen resorts are located in 
Oita-prefecture, and have different fascinating features. Oita-prefecture is on 
the north-eastern area of Kyushu and a representative Onsen resort areas in Japan,
total boasting hot spring sources and hot spring flowing volume are both Japan's
largest.
---
Tour condition
・Number of participant : maximum 8 person
・Tour date :  please specify the date
・Tour start and end place : Fukuoka, please specify the place 
    Kitakyushu or any other places in Fukuoka-prefecture can be arranged if requested
・

Private vehicle

is used and English speaking driver navigates you the tour
---
Tour Price
To be quoted as per customer's condition such as number of participant
---
Day 1
  Depart Fukuoka 
  Exploring Yufuin
  Stay Yufuin  
Day 2
  Exploring Beppu
  Return to Fukuoka
Day by Day
8:00 Depart Fukuoka, start of the tour
English speaking driver of a private vehicle will meets you at designated place such as
Airport or Hotel and navigate you the Nagasaki tour.
Drive to Tosu from Fukuoka using Kyushu Expressway and then to Kokonoe using Oita
Expressway.
Visit

 Kokonoe Yume Otsurihashi

The longest pedestrian suspension bridge in Japan and the 2nd longest in the World

Splendid and beautiful view from the thrilling suspension bridge over the Naruko river

valley.
Drive to Yufuin through a mountainous countryside area, Yufuin is is a beautiful and
tranquil Onsen resort representing Kyushu and is spreading in the Yufu basin at the
mountain foot of Yufu.
Exploring Yufuin 
Yunotsubo Avenuewhere the avenue is started near JR Yufuin Station and

connected to Kinrinko lake. Through Yunotsubo Avenue, it takes about 30 minutes

on foot from JR Yufuin Station to Kinrinko lake. There are 70 shops, gift shop,

galleries, curiosity item shops as well as cafes.

 
Yufuin Floral Village where is is the amusement facility that recreated the street

of the Cotswolds region in England, which was also used as the location for Harry

Potter. Cute owls welcome you in OWL's FORESR. You can enjoy strolling, gourmet

and shopping.
Kinrinko lake,  where is one of landmark in Yufuin. Hot water gushes from the

bottom of the lake, and hot steam rises from its surface on a cold day.  The lake is

located at the end of the town's main walking route, about a kilometer and a half

from the Yufuin station.

 
Stay at Yufuin, Japanese style accommodation included dinner
---
Day 2   Beppu  
After breakfast, drive to Beppu where is one of the most famous Onsen resort in Japan.
Just before Beppu, going up to top of Mount Tsurumi.

Soaring 1375 metres into the sky, Mount Tsurumi is a breath taking mountain overlooking

Beppu that offers some decent hiking, rare flora and outstanding vistas. Visitors can take 

a ropeway 800 metres up and revel in being surrounded by acres of rolling greenery.

 
 A collection of hot springs where the water bubbles forth from underground, often with

unusual result. Seven of the hells are located in the Kannawa district where over 4 km

northwest of Beppu station, and two in the more remote Shibaseki district. 

 
Have you tried Foot bath before?  Foot bath is called Ashiyu in 

Japanese and is a public

bath 

in which people can bath their feet.  

Ashiyu in Beppu set up at Kannawa Onsen
Return to Fukuoka
18:00 Arrive Fukuoka, end of the tour
---
Map of Yufuin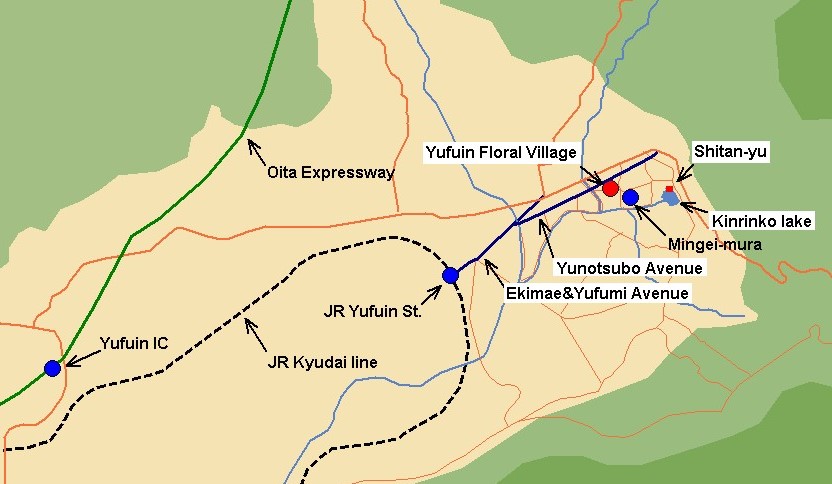 ---
Map of Beppu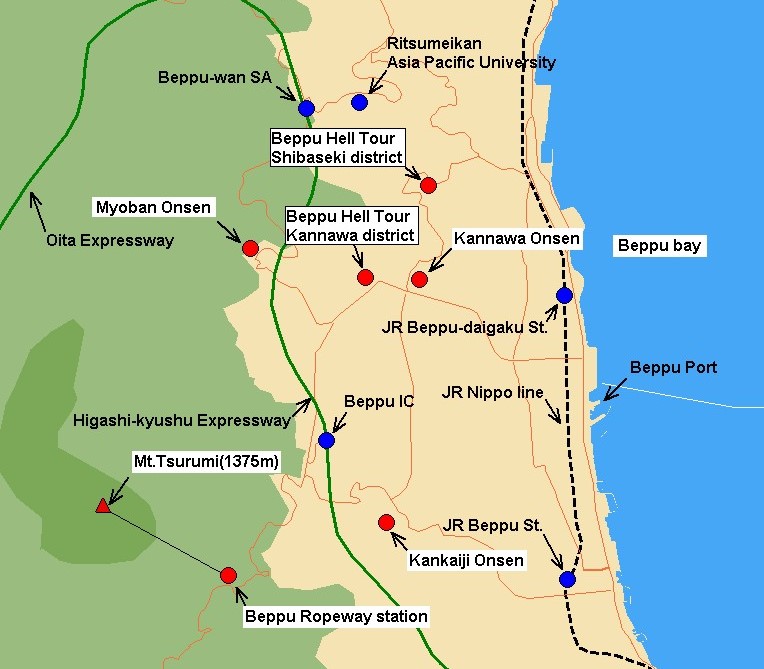 ---
Home  Our Services   About us   Contact us   Kyushu Travel Guide
---