Kitakyushu travel guide
Kitakyushu is the second largest city in Kyushu and World leading Environmental Future city, 
and blessed with spectacular & stunning nature. The city is the Industrial Innovation city greatly
contributed to Japan's Industrial modernization. Now Kitakyushu offers a lot of sightseeing spots
such as scenic beauty places, UNESCO World Heritage of Sites of Japan's Meiji Industrial
Revolution , Industrial heritages, placed introduce cultures of people living there, and various
historic sites.  
Kokura area
Kitakyushu's landmark Kokura Castle. Fukuoka–prefecture only in Japan is selected by
CNN Travel as one of the top 19 places to visit in 2019.  And the Photo of Kokura Castle is
used for introducing Fukuoka-prefecture. The Castle located within a walking distance of 
JR Kokura Station.
---
Kokura Castle Garden made at the former site of lord's guest house, located next to Kokura Castle.
This garden consists of a Japanese garden and a lord's house, a building of the style of Japanese
domestic architecture. In this garden, not only can you see Japanese traditional architecture,
but also enjoy the Tea Ceremony at the Experience Zone.
---
Typical Japanese market, known as "the kitchen" in Kitakyushu-city.  There are more than
120 shops in the 180 metre-long arcade. Here you get a true taste of the culture and sample
the real life style  of the people living in Kitakyushu. You can find fresh, inexpensive fish,
vegetables and meats, as well as local specialties.
​
---
Uomachi & Kyumachi downtown shopping street 
Uomachi and Kyomachi Ginteigai are the arcade downtown shopping streets connected from
JR Kokura Station. The literal meaning of Gintengai is the Silver roof arcade shopping street
and Uomachi Gintengai is the birth place of Japanese arcade shopping street constructed in 1991.
Now, there are many kind of fantastic shops and restaurant along the street.
---
Manga Museum is located next to JR Kokura station. The museum is located on the 6th floor
of Aru Aru City, a multi-floored shopping mall devoted to products and services for anime, manga,
idol culture, and cosplay fans, a kind of Harajuku in miniature.
---
Moji area
Dr. Albert Einstein awarded Nobel Prize in Physic visited Moji in 1922, and he acclaimed
that everything could see were Arts. The exotic district of Mojiko Retro is visited by more 
than 2 million tourists a year. Moji-ko Port flourished following its 889 designation as a
Special National Port for exporting coal and other products. 
It was built by the Mitsui Co., Ltd in 1921 as a reception centre and to provide accommodation for
VIP's.   Albert Einstein (1879-1955), one of the world's most famous theoretical physicists, stayed
here during his visit to Japan with his wife in 1922.
---
The shopping area in the Mojiko Retro district located by the sea. "Full of a romance market which
stir up forgetting contentment" is the direct translation of the concept Kaikyo Plaza is based on. 
The area has a very romantic ambience and evokes feeling of nostalgia and contentment that will 
never be forgotten. 
---
It is the only Station building that is designated as an Important National Cultural Property 
together with Tokyo Station. Mojiko Station is a beautiful station built in the Renaissance 
style and modeled on the Termini Station in Italy. 
---
Situated on the 31st floor of the high-rise apartment building "Retro Hi-Mart".  The 103 metre-high
observatory offers magnificent views of the Mojiko Retro district, the Kanmon-kyo Bridge over the 
Kanmon Strait, as well as the Shimonoseki area.
| | | |
| --- | --- | --- |
| | | |
---
Only the place in the world !   You can cross the strait on foot.  The Kanmon Strait, separating
Honshu and Kyushu, is a very beautiful and busy waterway with as many as 700 small and 
large ships a day passing through it. the Kanmon Pedestrian Tunnel, which enables people to 
cross on foot,
---
Higashida area
Japan's modern steel industry was started as Yawata steel Works at Higashida district
in 1901. Since then, the Works greatly contributed to Japan's industrial modernization.
The three sites in Higashida have been registered on UNESCO World Heritage  as
Sites of Japan's Meiji Industrial Revolution.
Only the Blast  Furnace in the world which preserved as it was. The birth place where 
Japan's steel industry began in 1901. It contributed greatly to the development of the
Japanese steel industry and was used until 1972, and has been preserved just as it was.
---
First Head Office of the Steel Works  / UNESCO World Heritage  
Built in 1899, ahead of production facilities. It is an architectural fusion of Japanese and
European design, a two story red brick building with bilateral symmetry and a central dome
set in a Japanese tile roof.
---
Industrial Heritages
The first-class civil construction heritage completed in 1927, the triggered the registration of World
Cultural Heritage of Sites of Japan's Meiji Industrial Revolution.  The Kawachi Reservoir was
constructed for the industrial water supply to Yawata Steel Works. The dam was constructed at the
Okura River and upper stream of the dam was expanded and making the 7milion cubic metre reservoir.
---
The only remaining lenticular truss bridge in Japan  ( lens type truss bridge),
located at the
south side of Kawachi Reservoir and it was designed by Hisanori
Numata. 

This shape and
color really harmonize with nature and become a

symbol

of the Iron town

Yahata

.
---
Built in 1910 on the east bank of the Onga River. It served, and still serves, to deliver industrial
water to Yawata via an 11.4 km pipeline. The site has been registered on the UNESCO World
Heritage, Sites of Japan's Meiji Industrial Revolution 
---
Dedicated Railway for Yawata Steel Works. The railway connected between Yawata and Tobata,
construction work took three years, and completed in 1930. The most difficult and hard work was
making Miyatayama tunnel with a total length of 1180 m due to suffering from floods. The gates of 
the Miyatayama tunnel are decorated with stately designs.
---
Japan's Modern Steel Works history started here. Yawata was a rural village with a small
population of agriculture and fishing industry. And this place was decided in Parliament as
the Japan's Modern Steel Works construction site in 1897.At that time, there were no
construction machineries, the Steel Works was constructed with human power in just 4 years.
---
The city is blessed with spectacular & stunning natural feature, about 960,000 people are living
in the area spreading in river basins where surrounding Sea and mountains. The coastline belongs
to Seto Inland Sea National Park and Genkai Sea Quasi-National Park and also the city has
Kitakyushu Quasi-National Park. 
The height of the mountain is 622 meters from sea level. At the top you are presented with a
magnificent and spectacular view of Kitakyushu. ​In 10 minutes, you can reach the summit 
from the Cable Car Station using the Cable car and the Slope car. 
Three Major Night View of

Japan
from

Mount

Sarakura

to be experienced.
The beautiful night
view is created by combination of industrial zones and rich nature areas

.
Hiraodai Karst Plateau & Caves 
One of the three largest Karst Plateau in Japan. It is located in southeastern part of Kitakyushu-city. 
At altitudes between 400 and 600 meters above sea level and stretching 6 km from north to south
and 2 km from east to west.  
---
Kawachi Wisteria Garden is a private garden at the Mountain foot of Sarakura and famous for its
spectacularly presented, large numbers of wisteria flowers. The garden is opened to the public
seasonally during the wisteria season which usually peaks around late April to middle of May.
---
Local cuisines 
Kawara Sobe
Kawara soba is a local cuisine which Soba noodles and meat are cooked together
on a Kawara (stone roof tile) and dipped into a special sauce when eating it.
---
Yaki curry
Yaki curry latterly means baked curry and is local cuisine in Moji which is curry with rice
topped with cheese and/or egg heated in oven. The melted cheese and soft-boiled egg
combine with the spicy curry to enhance its flavor even more.
---
Eel Restaurant, Chikurintei
---
Dinner at Kokura

Ekikara sanjippo yokocho
The place is located on the ground floor of JR Kokura Station. There are 8 restaurants
where local cuisines can be enjoyed.
---
Tanga Yatai
At night time, food stalls called Yatai open in the square in front of Tanga Market.
Here you can try delicious oden (a stew made from various ingredients) and ramen.
---
General information  
Address

City hall ; 1-1 Jonai Kokura-kitaku, Kitakyushu-city, Fukuoka-prefecture

Cabinet designate city

Access

70 minutes by a vehicle from Fukuoka Airport in Fukuoka-city

100 minutes by a vehicle from Saga-city

160 minutes by a vehicle from Nagasaki-city

100 minutes by a vehicle from Beppu

100 minutes by a vehicle from Yufuin

 

40 minutes by JR Express train from JR Hakata Station

19 minutes by JR Shinkansen (bullet train ) from JR Hakata Station  

Population

945,000            Population density : 1.920 / km2 
---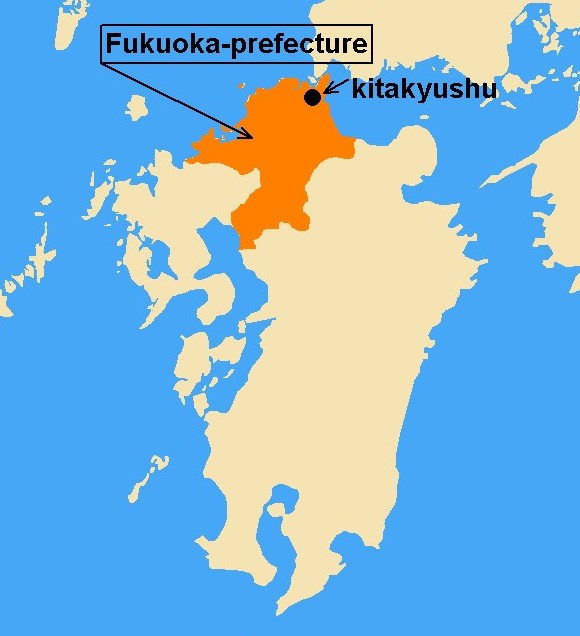 ---
Kitakyushu-city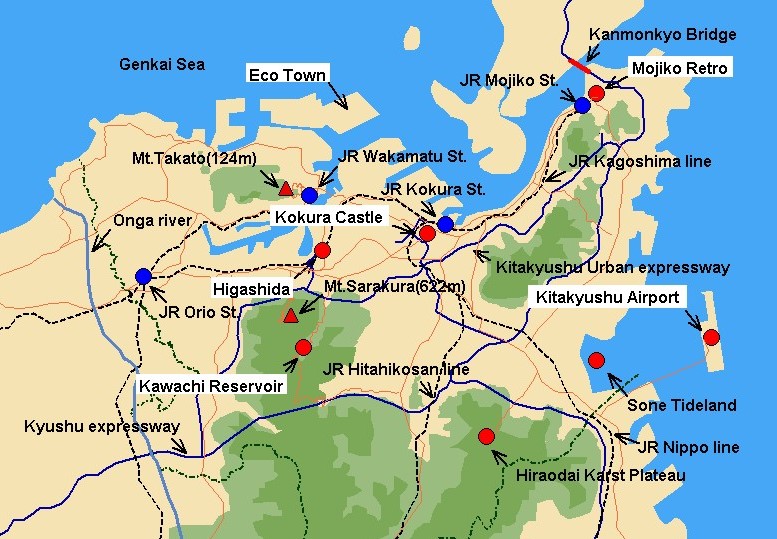 ---
 Home  Tailor-made tours Study tours Christian Pilgrimage tours Golf tour   Kyushu tour packages 
---