Takeo and Ureshino travel guide
Takeo Onsen resort
Takeo has 1200 years history and is located in the western part of Saga-prefecture.
The hot spring temperature is 18 to 52 degrees. Spring quality is smooth with alkaline simple
hot spring.  It is said that the color is colorless and transparent and has an outstanding effect
on recovery from fatigue.
---
The landmark of Takeo Onsen. Romon Gate, which was designed

by a renowned architect in the Meiji Era, Kingo Tatsuno, and is at

the entrance of the Onsen area.
---
Beautiful Japanese Garden, located in the south-western foot of

Mifuneyama, construction of the garden took about 3 years and

completed in 1845, the area is about 5ha. The dynamic cliffs of

Mifuneyama Mountain can be seen from the garden.
---
Great Camphor tree at Takeo Shrine
One of the oldest Camphor tree in Japan. The tree is one of the 

largest in Japan and over 3,000 years old. Designated a natural

monument of the city. It is 30 m high, has a circumference of 20 m,

and its branches extend 30 m east-west and 33 m north-south.
---
Ureshino Onsen is a hot spring town in south-western Saga

Prefecture. Its clear Onsen waters are high in sodium bicarbonate

and sodium chloride and feel extremely smooth on skin, giving

rise to its popularity as a "Bihada no Yu" ( beautiful skin waters).
---
Ureshono tea, local speciality
Ureshino is famous for its tea. Terraces of tea fields sprawling out

one after the next is a scene typical of Ureshino. Proper cultivation of

Ureshino Tea was begun between 1648 and 1651 by tea grower,

Jinbei Yoshimura, who is even sung about in the local folk songs.

 
---
General information  
Address

City hall : 12-30 Oaza-showa, Takeo-cho, Takeo-city, Saga-prefecture

Access

25 minutes by a vehicle from Arita

50 minutes by a vehicle from Saga-city

80 minutes by a vehicle from Fukuoka-city

60 minutes by a vehicle from Nagasaki-city

Population

48,000   Population density 250
---
Takeo and Ureshino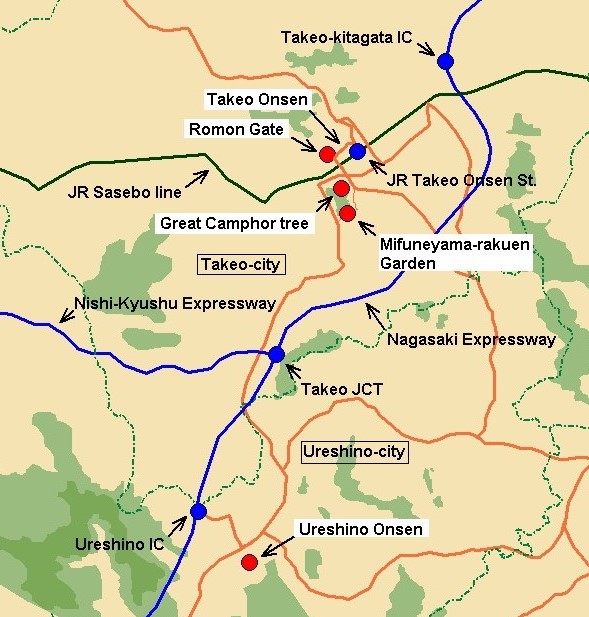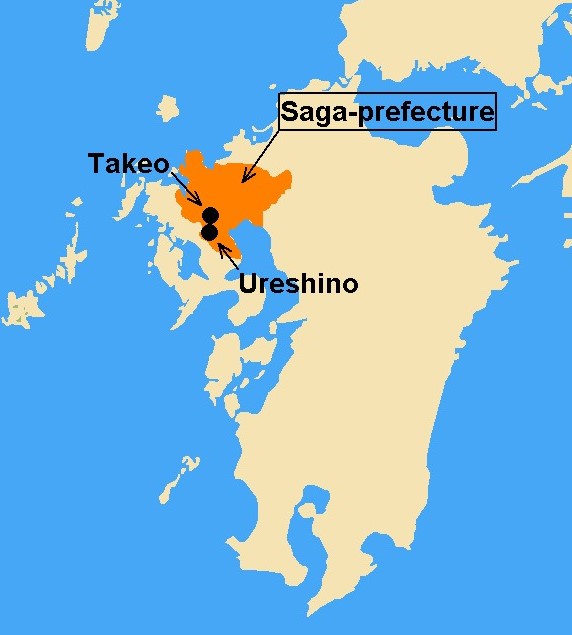 ---
Home  Tailor-made tours Study tours Christian Pilgrimage tours Golf tour Kyushu tour packages
---