Ureshino Onsen Resort
Ureshino Onsen is a hot spring town in south-western Saga Prefecture. Its clear Onsen 
waters are high in sodium bicarbonate and sodium chloride and feel extremely smooth
on skin, giving rise to its popularity as a "Bihada no Yu" ( beautiful skin waters).
Visitors to Ureshino can try the local waters at the Siebold-No-Yu, a public bath house
with gender-segregated pools, named after the 19th century German scientist who enjoyed
bathing in the town during his stay in Japan. Furthermore, there are over 30 hotels and 
Ryokan.
---
Ureshono tea, local speciality
Ureshino is famous for its tea. Terraces of tea fields sprawling out one after the next is
a scene typical of Ureshino. Proper cultivation of Ureshino Tea was begun between
1648 and 1651 by tea grower, Jinbei Yoshimura, who is even sung about in the local folk
songs. Tea seeds were gathered from Mount Sefuri and planted in the mountainous region
of Ureshino Onsen, ideal as a tea growing area.
---
Ochacha Mura Villaege
Visitors get to taste test green teas and products, see and tour the warehouse factory
where green tea is cultivated and packaged, and leave with a better understanding of the
ever-so-popular tea. You can even experience the process of picking young green leaves
for cultivation.
---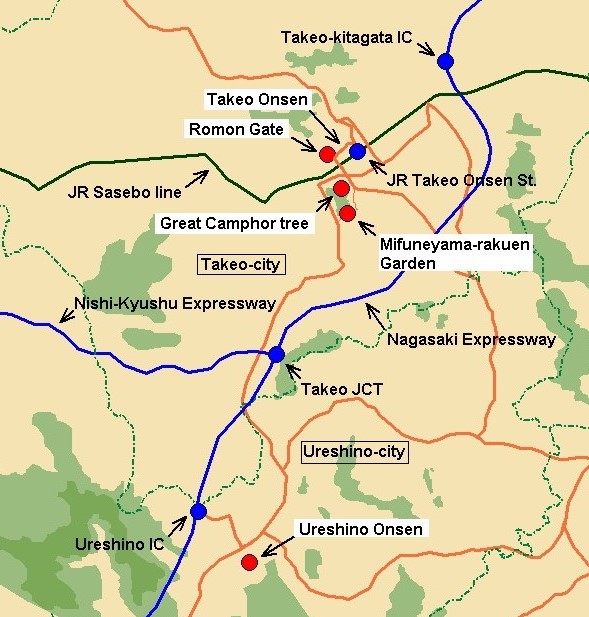 ---
Home  Tailor-made tours Study tours Christian Pilgrimage tours Golf tour Kyushu tour packages
---