Kitakyushu tour & travel
Kitakyushu-city is blessed with spectacular & stunning natural feature and have one Natioanl Park,
and
two Quasi-National Parks.  And the city is the Industrial Innovation city with many fascinating
The combination of industrial zones and rich nature areas are creating the most dynamic Night

The world's most dynamic night view  
Kitakyushu offers amazing possibilities for tour and travel to enjoy Nature, culture and local Japanese
cuisines.
And also Kitakyushu is the best place of Study tour in Japan, such as Industries, Manufacturing
Recycling & Waste treatment, Environment and other required themes.
---
 Featured Tourist Destinations  
 Kokura  
---
 Moji  
The exotic district, developed 

as International trading Port  

The suspended bridge crossing

the Kanmon Straits

Only the place in the world,
can be crossed the strait on foot
---
 Higashida & Industrial Heritages  
Birth place of Steel Making

Industry in Japan 

World Cultural Heritage

Built in 1899, ahead of production

facilities


It contributed greatly to the 

development of the Japanese

steel industry and was used until 1972
Japan's Modern Steel Works

history started here.

Dedicated railway for Yawata

Steel Works connected between 

Yawata and Tobata.

theme of "innovation," the 

Kitakyushu Innovation Gallery

& Studio opened in Yahata,

Higashida
The first-class civil construction 

heritage. The triggered the 

registration of World Cultural 

Heritage.

The only remaining lenticular 

truss bridge in Japan ( lens type

truss bridge) 

Built in 1910 on the east bank of

the Onga River. It deliver the

industrial water to Yawata via an 

11.4 km pipeline.
---
 Nature  
The city is blessed with spectacular & stunning natural feature, about 960,000 people are living
in the area spreding in river basins where surounding Sea and mountains.
The coastline belongs to Seto Inland Sea National Park and Genkai Sea Quasi-National Park
and also the city has Kitakyushu Quasi-National Park. 
The best scenic beauty spot in Kitakyushu-city

One of the three largest karst

plateau in Japan 

Selected as a beautiful place

of the real world 10
---
The city of Kitakyushu is the birthplace of the modern Japanese steel industry which began
operation in 1901, and is now the world's leading environmental future city.
Now it is called industrial and environmental city which is representative of Japan.
Therefore the various things can be learn here.

Steel industry, Robot, Sanitary

ware, Aouto mobile

Eco business, Power generation,

Waste treatment, Otheres

STEM : Science, Technology,

Engineering and Mathematics
---
 Featured tours related to Kitakyushu  
Kitakyushu offers amazing possibilities for tourism and travel with a combination of spectacular
scenery, rich cultural experiences as well as learning possibilities for the environmental and
industrial themes. The following plans are offered
・Plan 1  :Kokura, Mt. Sarakura and Higashida
・Plan 2 :Moji and Kokura
---
Kitakyushu is the best place for Study tours.
The various things can be learned such as manufacturing, environment, power
generation, waste treatment, recycling and water treatment.
---
Recycling & Waste treatment technologies tour
Kitakyushu is offering various Recycling and Waste treatment technologies.
---
      Location of Kitakyushu-city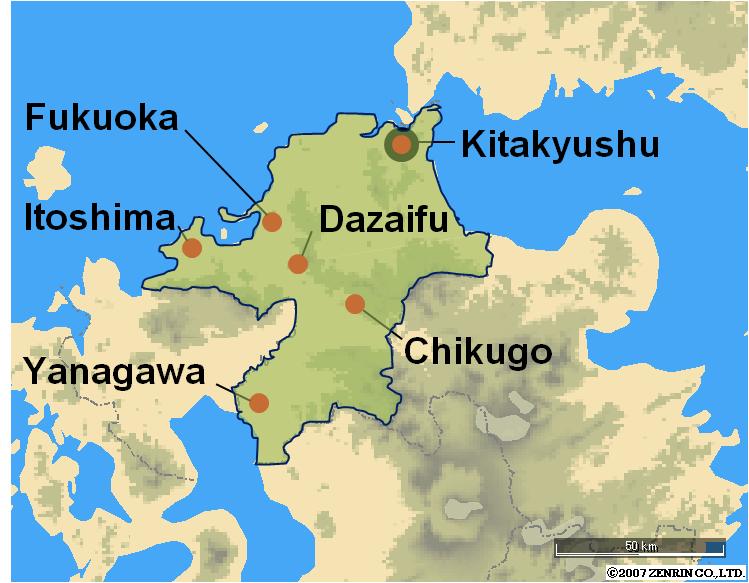 ---
 General information  
Address

City hall ; 1-1 Jonai Kokura-kitaku, Kitakyushu-city, Fukuoka-prefecture

Cabinet designate city

Access

70 minutes by a vehicle from Fukuoka Airport in Fukuoka-city

100 minutes by a vehiclefrom Saga-city

160 minutes by a vehicle from Nagasaki-city

100 minutes by a vehicle from Beppu

100 minutes by a vehicle from Yufuin

 

40 minutes by JR Express train from JR Hakata Station

19 minutes by JR Shinkansen (bullet train ) from JR Hakata Station  

Population

945,000            Pupulation density : 1.920 / km2 
Should you need further information please feel free to contact us.
Your equiry can be sent by selecting the Enquiry Form link below.
You can also contact us by e-mail at info@japan-kyushu-tourist.com
Tel :  +81-93-521-8897, Fax :  +81-93-521-8898
Address :  AIM buiding 6th floor, 3-8-1 Asano, Kokura-kitaku, Kitakyushu-city, Fukuoka-prefecture 
---