Nagasaki-prefecture travel guide
Nagasaki-prefecture is located north-west side of Kyushu and borders Saga-prefecture on the
east, and is otherwise surrounded by Seas. It also includes a large number of islands such as
Tsushima and Iki. Most of the prefecture is near the coast and there are a number of ports such
as Nagasaki–city and a United States Navy base at Sasebo–city. The capital of Nagasaki
prefecture is Nagasaki–city .
---
Where to explore
One of Must visit destination in Kyushu.  The city have many oversea

countries cultures and the significant Japanese histories like no other 

areas.  In addition to above features, the geographical conditions are 

creating fascinating tourism and now many tourists are visiting here.
---
Region spread in the foot of gentle mount Unzen and facing to calm sea. 

The region offers various enjoyable things such as Nature, Onsen,

Castle town of Shimabara-city, UNESCO World Heritage of
---
A gentle Onsen resort situated in the Unzen National Park. Located

in the centre of Shimabara peninslua, at the southwest part of Mount

Unzen with an altitude of 700m. It is started receiving foreign tourists

around the year 1900 when Kaempfer and Siebold introduced the

city  to Europe and China. 
---
Onsen Resort facing to Tachibana bay. Located at western foot of 

Mount Unzen, and consist of Shimabara peninsula Onsen Resort

 along with Unzen Onsen Resort and Shimabara Onsen Resort.

About 30 Hotels and Japanese style accommodation are standing

along the Tachibana bay.
---
The 2nd largest city in Nagasaki-prefecture next to Nagasaki-city. 

The city includes a part of Saikai National Park. Located in the southern

part of the city is the Dutch-styled theme park Huis Ten Bosch.
---
Huis Ten Bosch is a theme park in Sasebo, which recreates the

Netherlands by displaying life-sized copies of old Dutch buildings. 

The name Huis Ten Bosch translates into English as "House in

the Woods/bush".  It is named after Huis ten Bosch in The Hague, 

one of the three official residences of the Dutch Royal Family.
---
Hirado off the North West coast of Nagasaki-prefecture is a beautiful

and historic location full of interesting museums, Christian churches,

white sandy beaches and an imposing castle. Portuguese ships first landed

in Hirado's superb natural harbor in 1549 and St. Francis Xavier

is known to have visited in 1550.
---
Nagasaki-prefecture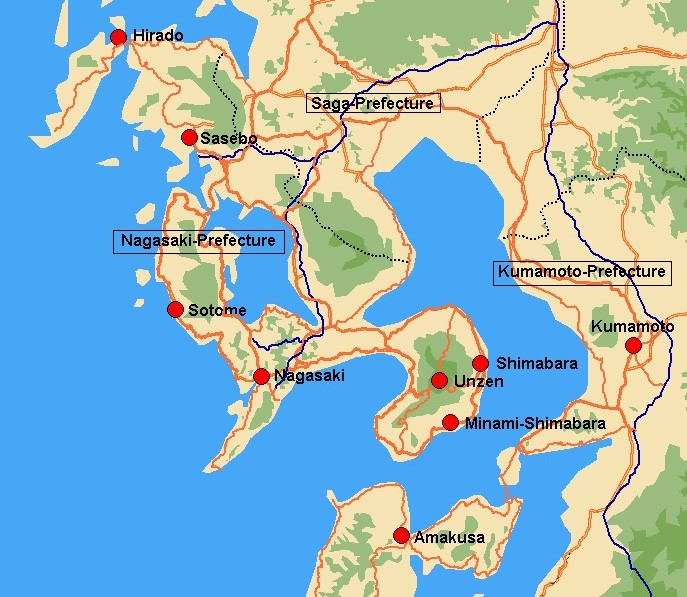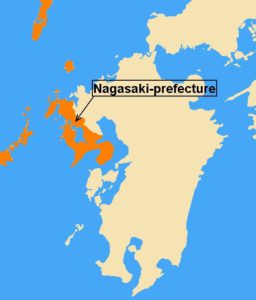 ---
Home  Tailor-made tours Study tours Christian Pilgrimage tours Golf tour Kyushu tour packages
---