Itoshima travel guide
The nearest Resort town from Fukuoka-city, Itoshima is surrounded Genkai Sea and Seburi
Mountain. The beautiful Genkai Sea where the dynamic wave makes coast line scenery, and
a traditional Japanese landscape in the rural area spreading Mountain foot can be enjoyed.
---
Where to visit
A beautiful sunset scenic spot at Genkai Sea, the place is selected

as Japan's 100 scenic beauty sunset beach.  Located in Genkai

Quasi-National Park. The married rock is connected by the large

Shimenawa with 30 metre length and 1 ton weight. Male rock is

11.8 metre high and Female rock is 11.2 metre height.
---
One of the most beautiful beach in Itoshima. Anego no Hama Beach

is a beach of "singing" sand that makes a squeaking sound when

people walk on it. It is said that singing sand exists only on clean

beaches, and that 90 such beaches used to exist in Japan.  
---
The salt making plant by the ancient production method. A salt and

a magnesium chloride are produced with Genkai sea water.  
---
The most largest basalt cave in Japan consist of octagon and

hexagon columnar joints. The entrance of the cave is 64 metre

high and 10 metre width and the depth is 90 metre.

It is designated as one of three major Basalt caves in Japan.
---
The waterfall is located near the source of Katsuki River. It's 30

meters high. It is known for clear water, and said to live Sansyouo.

In front of the fall, a Banryu maple tree grows naturally that lives

more than 300 years. In autumn, lots of visitors come to see autumn

leaves at the pedestrian and the maple tree leaves.
---
Well known for being a great place for cherry blossom viewing in

spring, and many people visit in the autumn to see the fall foliage.

The temple was founded  thein 725, Nara period by Seiga. There is

an Important Cultural Property which is the 4.8 meter wooden 

Avalokitesvara statue in the main hall. 
---
Featured seafood restaurant, Isonoya. Special seafood dish used fresh

fishes caught in the Genkai Sea can be enjoyed.
---
Itoshima oyster growing up in the rich nature of mountain and sea. 

There are many Oyster Barbecue Huts at five fishing harbours. 

The huts only open during the season, from end of October to

March or April.
---
There is the tasting corner,  let's sample sake. Sake is unique

Japanese  liquor made by fermenting rice.  Suginoya was

founded in 1870 in Itoshima.
---
Ichirano-no mori, Hakata Ramen
Ichiran is an authentic tonkotsu ramen or pork born soup ramen

restaurant, established in 1960.   The ramen producing factory can

be visited and various type of ramen can be enjoyed at 

Ichiran-no-mori.
---
General information  
Address

City hall : 1-1-1 Maebarunishi, Itoshima-city, Fukuoka-prefecture

Access

30 minutes from JR Hakata Station by a vihecle 

using Fukuoka Urban Express Way and Nishi-kyushu High way

40 minutes by train from JR Hakata Station to Maebaru, Itoshima

Population

97,000   Population density 450
---
Itoshima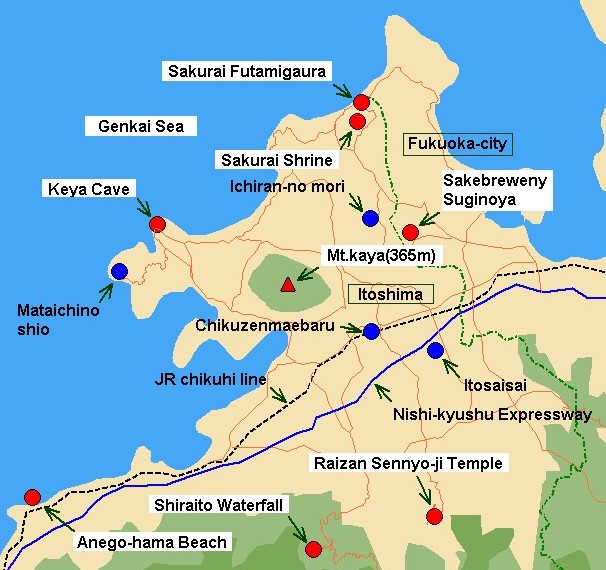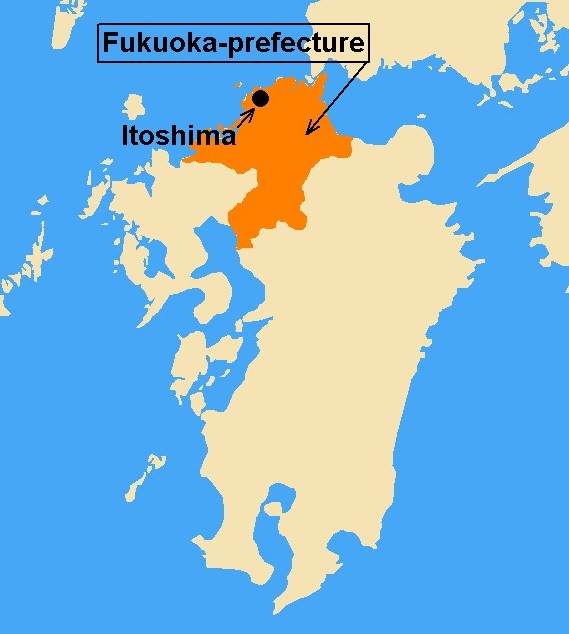 ---
Home  Tailor-made tours Study tours Christian Pilgrimage tours Golf tour   Kyushu tour packages
---