Saga, Kashima, Yotoku Inari Shrine tour
 Where to Explore  
Kashima, Utoku Inari Shrine, Saga-city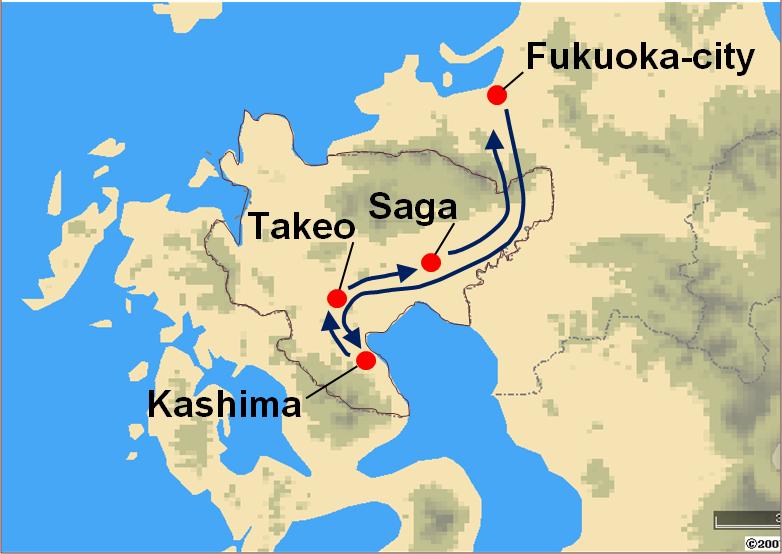 General condition
・Departure and disbandment place is in Fukuoka-city
・Chartered vehicle is used
---
 Itinerary  
8:30 Depart Fukuoka-city
Transfer to Kashima using Kyushu Expressway, 1 hour 30 minutes
Visit Yotoku Inari Shrine
transfer to Saga
Lunch at Saga-city
Exploring Saga-city
  Saga Castle History Museum. Saga Shrine, Mietsu Naval Dock
Transfer to Fukuoka using Kyushu Expressway, 1 hour  
18:00 Arrive at Fukuoka-city 
---
Located about 60 kilometers southwest of Saga City.
It borders the Ariake Sea to the east and Nagasaki Prefecture to the southwest.
Feature sightseeing spot is Yutoku Inari Shrine and also Sake brewery visiting is recommended.
| | | |
| --- | --- | --- |
|            Sake Brewery |            Sake Brewery |            Ariake Sea |
The Shrine was used as a Shooting location of Thailand drama.
One of the most famous Inari shrines in Japan and located in Kashima-city, Saga-prefecture.
Dedicated to Inari, the deity whose messengers are foxes, it is the third largest of its kind
in Japan. ​
---
It faces the Ariake Sea on the south and is home to Saga Airport.
Saga is known as the plece where it has made a great contribution to the Japanese
Industrial Revolution.
Japan's Industrial Modernization activity was started here in Saga.
The largest restored wooden building in Japan at 2,500m2, the museum offers the unparalleled
chance to experience a Japanese castle from more than 175 years ago.
---
The shrine is designated as the special government shrine.
The shrine dedicated to Naomasa Nabeshima, who oversaw the manufacture of Japan's
first modern Cannon.
| | | |
| --- | --- | --- |
| | | |
---
World Heritage, Site of Japan's Meiji Industrial Revolution
Before Meiji Restoration, the Mietsu Naval Dock served as a venue for naval drilling and
maintenance of Western-style ship, as the naval base of Saga Clan.
Japan's first practical steam ship, the Ryofu-maru was constructed there in 1865.
---
Lie on the spacious hilly area in the northeastern part of Saga. Remains of a ringed-dugout settlement
presumably dating back to the 3rd century B.C. were unearthed there, and excavation is still underway
at the site. They are among the largest archeological remains in Japan.
---
Note : we can arrange any other destinations considering your preferences for making
           your own plan.
---
Should you need further information please feel free to contact us.
Your equiry can be sent by selecting the Enquiry Form link below.
You can also contact us by e-mail at info@japan-kyushu-tourist.com
Tel :  +81-93-521-8897, Fax : +81-93-521-8898
Address :  AIM buiding 6th floor, 3-8-1 Asano, Kokura-kitaku, Kitakyushu-city, Fukuoka-prefecture 
---