Shimabara travel guide
Region spreads in the foot of gentle Mount Unzen and facing to Ariale sea, Shimabara is consist
of two cities on Shimabara peninsula, Shimabara-city west side of peninsula and Minami-Shmabara
city south-west side of peninsula. Located in the foot of Mount Unzen and facing Ariake Sea, and
those geographical conditions and mild climate create natural scenic beauty in the east and Mount
Unzen including Mount Fugen. The region offers various enjoyable things such as Nature, Onsen,
Castle town of Shimabara-city, and Christian Pilgrimage sites.
---
Exploring Shimabara  
Located in Shimabara-city and was built in 1625 by the feudal load

Matsukura Shigemasa, who was regarded as a master of castle

building.  The castle, which took 7 years to complete, is also 

known as "Moritake Castle".
---
Samurai was a term for the military nobility in pre-industrial Japan. 

The Samurai Houses in Shimabara along the old Samurai street 

nearby Shimabara Castle were built in 18th century.
---
The street lined with stone walls and a spring water canal running

down the center commemorates the old samurai section of

Shimabara. Three Samurai houses have been restored and 

opened as exhibits.
---
The Christian pilgrimage site, registered on UNESCO's World

Heritage Site as Hidden Christian Sites in the Nagasaki Region. 

The battle field of Shimabara Rebellion which was a peasant

uprising agaist bakufu's persecution of Christians under the

leadership of Amakusa Shiro in 1637. 
---
During the period of the Southen and Northern Courts (1337-92), the

Arima family ruling the Shimabara Peninsula constructed a castle named

Hinoe-jo. The 14th lord, Harunobu (1567-1612) was a Christian daimyo

and refurbished his castle into a large scale which had gardens, a tea

arbor and many rooms.
---
Local delicacy food, Guzoni
Guzoni is said to created during the Shimabara Rebellion of 1637.  

When Cristian were fought under the leader ship of Amakusa Shiro,

they brought various ingredients such as rice cake, fishes and

vegetables, and made a stew.   This is the origin of Guzoni.

 
---
Approximately 300 wild Dolphins live in the sea between the Shimabara

Peninsula and Amakusa.  The dolphin watching cruises have become

increasingly popular for all ages, especially because it is possible to

see the dolphins so close that you could almost touch them.
---
Ferry to Kumamoto, from Shimabara
Two ferries are operated form Shimabara to Kumamoto–city

Kyusho Ferry : operated by Kyusho Ferry, 60 minutes ride

Ocean Arrow : operated by Kumamoto Ferry, 30 minutes ride.
---
Ferry to Amakusa (Oniike) , from Kuchinotsu (Minami-Shimabara-city)
| | |
| --- | --- |
| | Shimatetsu Ferry : operated by Shinabara Rail Way, 30 minutes ride. |
---
General information  
Address

Shimabara-city, Nagasaki-prefecture

Access

90 minutes by a vehicle from Nagasaki-city

70 minutes by a vehicle from Nagasaki Air port

30 minutes by a vehicle from Unzen-city
---
Shimabara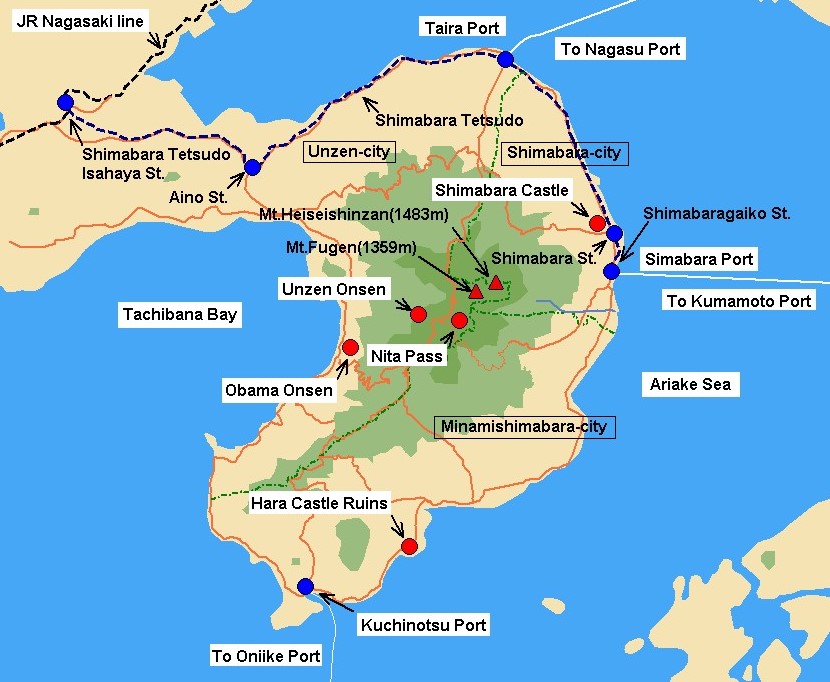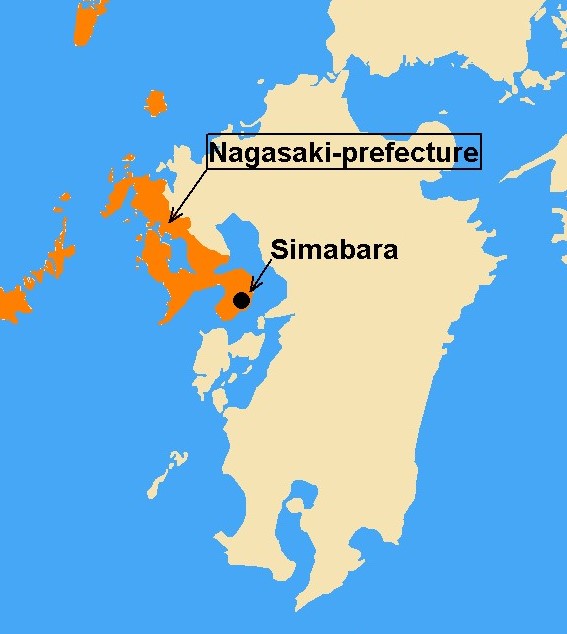 ---
 Home  Tailor-made tours Study tours Christian Pilgrimage tours Golf tour   Kyushu tour packages
---