Asakura travel guide
It is a thriving area of agriculture in Chikugo region, Fukuoka-prefecture  where has rich nature
and many historical heritages. And also there is a Onsen Resort along the Chikugo River.
The modern city of Asakura was established on March 20, 2006, from the merger of the former town
of Asakura, absorbing the city of Amagi, and the town of Haki. Asakura is located in south central
Fukuoka Prefecture and is spreading in the Chikugo plains of the Chikugo River basin which is the
big river in Kyushu.
---
Akizuki is a former Castle town located in northern part of Asakura.
You can enjoy the harmony of countryside landscape and former castle town scenery
that makes the atmosphere like a time of 400 years ago.
| | | |
| --- | --- | --- |
|         Sakurano-baba Street |               Cherry Blossoms  | |
---
A tranquil Onsen Resort near Fukuoka-city and is located on the banks of Chikugo River. 
The quality hot spring is weakly alkaline and sulfur is mixed and has the effect of dropping
old horn and creating beautiful skin.
| | | |
| --- | --- | --- |
|                   Gate way  | |                Onsen resort |
---
Asakura is the only area in Japan to use water wheels for irrigation. The irrigation system used the
Triple Water Wheel was completed in 1760. The water is supplied from Yamada weir in Chikugo 
through the canal to the Triple Water Wheel. And then the water distributed to each rice field by
Triple Water Wheel.
---
Only here in Japan,  the stone-covered Weir constructed.
Yamada weir is a construction for the irrigation system that water is supplied from Yamada weir
in Chikugo through the canal to the Triple Water Wheel to rice field.
The large and small stones are stacked against water flow, and leads water to the irrigation
canal while suppressing the momentum of the Chikugo River.
| | | |
| --- | --- | --- |
|      Stone-overed construction |                  Yamada Weir |             Water supply area |
---
Toho is a small village with a population of about 2,000 people and consist of two districts. 
Hoshuyama district, a mountain area blessed with nature Koisiwara district, pottery industry
representative of Kyushu.
---
Tachiarai Peace Memorial Museum   
The main exhibit room displays a few letters and other items of kamikaze pilots who died in battle.
One case has photos of about 50 kamikaze pilots from Tachiarai Air Base and includes the following
information on each pilot: name, unit, plane used, date of death, and air base of final sortie.
---
 Location of Asakura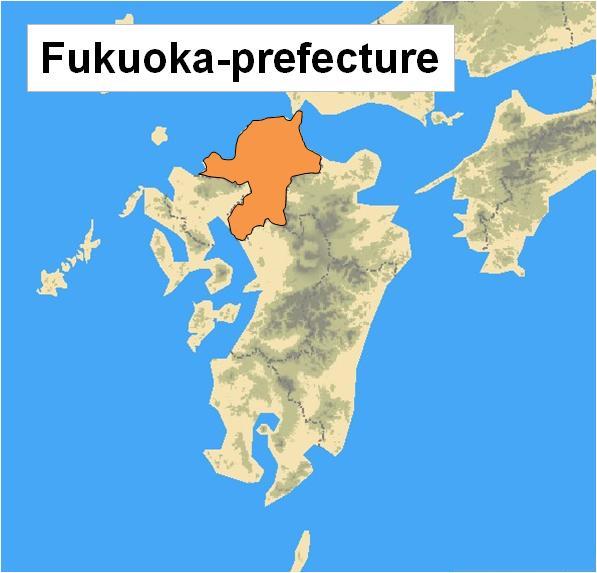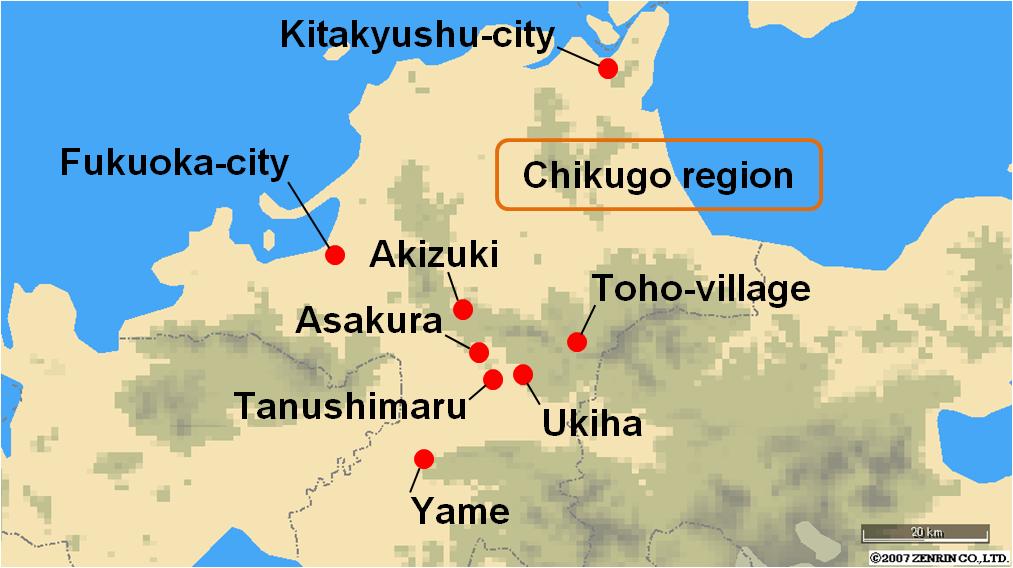 ---
General information  
Address

City hall : 412-2 Bodaiji, Asakura-city, Fukuoka-prefecture

Access

50 minutes by a vehicle from Fukuoka-city

30 minutes by a vehicle from Dazaifu-city

60 minutes by a vehicle from Yaanagawa-city

90 minutes by a vehicle from Kitakyushu-city

Population

50,700   Population density 205
---
Should you need further information please feel free to contact us.
Your equiry can be sent by selecting the Enquiry Form link below.
You can also contact us by e-mail at info@japan-kyushu-tourist.com
Tel :  +81-93-521-8897, Fax :  +81-93-521-8898
Address :  AIM buiding 6th floor, 3-8-1 Asano, Kokura-kitaku, Kitakyushu-city, Fukuoka-prefecture 
---
Tour results
We are offering various types of tours, and the tour results up to now are shown links below.       
Tailor-made tour      Study tour       Golf tour 
---