Beppu travel guide
Beppu is one of the most famous Onsen Resort in Japan.
A destination to be visited when travelling northern Kyushu
The popular hot spring town nestle at the foot of volcanos, Mount Yufu and Mount Tsurumi.
Boasting more than 2,800 hot spring sources and flowing rate of nearly
137,000 kiloliters 
per
day, Beppu is considered a paradise of hot springs
famous for high therapeutic effects.
The town is divided into eight major hot spring areas collectively called
 "Beppu Hatto", 
which offer beautiful scenery and various type of water of
different qualities.
Beppu bay & Mount Takasaki

Beppu bay

 
---
The most famous sights are Jigoku Meguri or (Burning Hell)  tour.  
A collection of hot springs where the water bubbles forth from underground, often
with unusual result.
| | | |
| --- | --- | --- |
| Umi jigoku |  Umi jigoku | Oniishi bozu jigoku |
Yama jigoku

 

Kamado jigoku

 

Oniyama jigoku

 
Chinoike jigoku

Tatsumaki jigoku

Shiraike jigoku

 
---
Jigoku Mushi kobo
Jigoku Mushi,  literally "hell-steaming" is an unusual cooking method found in Beppu.
It's a simple but impactful method that dates back to the Edo Period. Jigoku Mushi Kobo
features an interesting hands-on workshop where you can cook food yourself in the
searing onsen steam.
---
Soaring 1375 metres into the sky, Mount Tsurumi is a breathtaking mountain overlooking
Beppu that offers some decent hiking, rare flora and outstanding vistas. Visitors can take
a ropeway 800 metres up and revel in being surrounded by acres of rolling greenery.
On clear days, you can see as far as the Kuju Mountains, a famous mountain range
that runs between Oita and Kumamoto-prefectures.
---
Onsen Hoyo land
The Onsen is a public bath located in Myoban Onsen Resort.
This place is known by its mud looks like a cream, and is rarely found in Japan.
The mud has an excellent skin beautifying effect. The outdoor mud is a mixed-gender bath.
---
About 1700 wild Japanese monkey are living in the park.
The monkeys are fed regularly by park wardens in order to keep them on the mountain and
prevent conflicts with farmers and residents in the neighborhood.
---
 Location of Beppu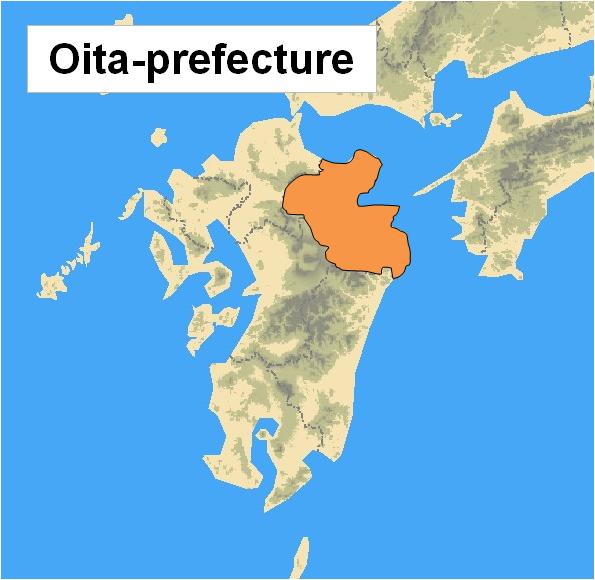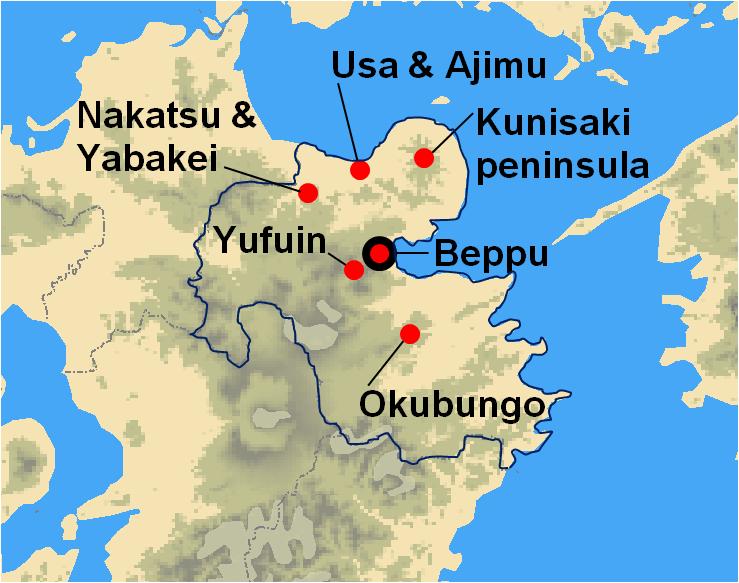 ---
General information 
Address

City hall  : 1-15 Kaminoguchi-cho, Beppu-city, Oita-prefecture

Access

20 minutes by a vehicle from Yufuin-city

100 minutes by a vehicle from Aso-city

160 minutes by a vehicle from Kumamoto-city

120 minutes by a vehicle from Fukuoka-city

100 minutes by a vehicle from Kitakyushu-city

Population

119,000   Population density 950 / km2
---
Should you need further information please feel free to contact us.
Your equiry can be sent by selecting the Enquiry Form link below.
You can also contact us by e-mail at info@japan-kyushu-tourist.com
And we would love to chat about your travel plans on the phone as well,
please ring our office a call in English    Tel : +81-93-521-8897
---
Tour results
We are offering various types of tours, and the tour results up to now are shown links below.       
Tailor-made tour     Study tour     Golf tour
---
 HOME    About us   Our Services    Terms and Conditions
---