Hyuga travel guide
Spectacle art collection of exposed Rocks created by raging wave. Hyuga is a bay city,
facing the Hyuga nada Sea. The whole area along Cape Hyuga- misaki with its many
exposed rocks is designated as the Nippo-Kaigan Quasi-National Park.  Umagase at the
top of Cape Hyuga-misaki is a precipitous cliff of pillar-like rock, towering as high as 70m.
---
Your dream come true here. The Cruz Sea is an area of ocean that appears to have a cross in it
when viewed from an observatory. This cape is known as a ria coast; the "cross shape" was
created by the narrow terrain here being eroded by rivers, resulting in a cross-shaped sea route.
---
Exciting scenery created by raging wave of Hyuga Sea. The coastline here is a ria coastline,
marked by intricate waterways sandwiched between cliffs. The cliffs here are 70m high and
the waves' splashing against them is an enchanting sight.
---
Let's meet the old days of Japan.  The area in the city is designated a National Important
Preservation District for Groups of Historic buildings, and there remain much of the atmosphere 
of the 19th century, including buildings of old times, earthen walls, and stone pavements.
---
Recreation facilities faceing to Hyuga Sea. It is located along national road 10 in the southern
part of Hyuga.  It is a complex leisure facility with hot spring facilities and road stations Hyuga,
restaurants and camping grounds.
---
 Location of Hyuga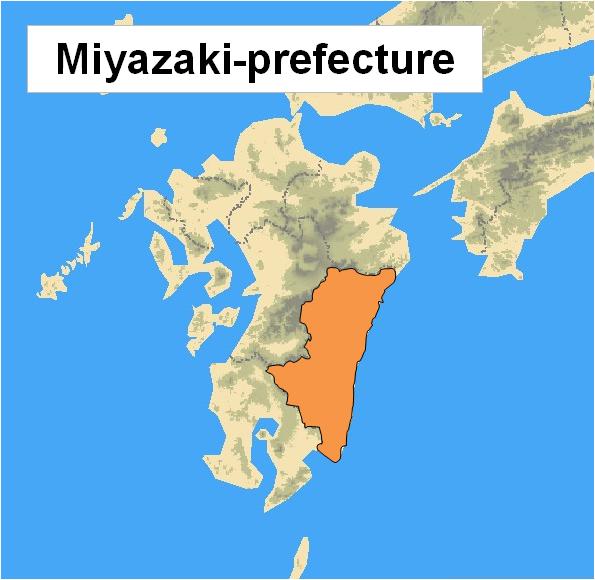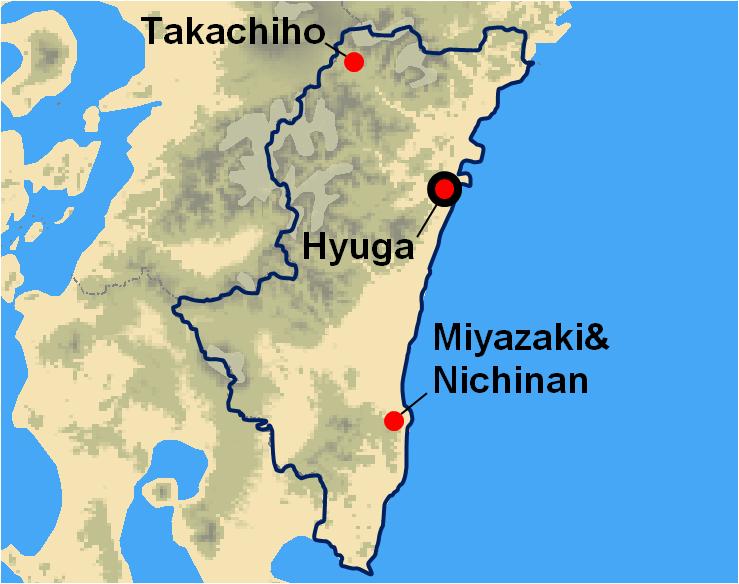 ---
Address

City hall : 10-5 Honmachi, Hyuga-city, Miyazaki-prefecture

Access

1 hour and 10 minutes by a vehicle from Miyazaki-city

1 hour and 10 minutes by a vehicle from Takachiho

1 hour and 50 minutes by a vehicle from Nichinan-city

2 hours and 10 minutes by a vehicle from Kirishima-city

2 hours and 50 minutes by a vehicle from Kagoshima-city
Should you need further information please feel free to contact us.
Your equiry can be sent by selecting the Enquiry Form link below.
You can also contact us by e-mail at info@japan-kyushu-tourist.com
And we would love to chat about your travel plans on the phone as well,
please ring our office a call in English    Tel : +81-93-521-8897
---
Tour results
We are offering various types of tours, and the tour results up to now are shown links below.     
Tailor-made tour      Study tour      Golf tour 
---
 HOME    About us   Our Services    Terms and Conditions
---