8 days Nature, Onsen and local speciality tour
This is the model itinerary for making your customized tour.
Exploring the featured destinations while enjoying Nature, Onsen and
local speciality.
How to travel
The tour starts from Fukuoka.
For the pleasant travel in accordance with your requirements and preference,
the Private vehicle is used as for transportation.
We propose your own Itinerary per the model Itinerary below.
---
Where to visit
Day 1 

The most enjoyable experience is Fruit picking through the

year. Ukiha blessed with nature where many orchards spread 

out at the foot of Mino mountain range. 

A tranquil Onsen Resort near Fukuoka-city and is located on

the banks of Chikugo River.  The quality hot spring is weakly 

alkaline and sulfur is mixed and has the effect of dropping 

old horn and creating beautiful skin.

stay 

Harazuru Onsen

Day 2

Onsen steam from underground is rising everywhere in Beppu.

One of the most famous Onsen resort in Japan, and is located

at the foot of volcanos, Mt. Yufu and Mt. Tsurumi.

The exciting experiences Hell tour is recommended.

stay 

Beppu

Day 3

Located in Yufuin Basin and the beautiful and tranquil Onsen

Resort harmonized with nature. Yunotsubo Avenue, Kinrinko

lake and Yufuin Floral Village are worth to explore.

stay 

Beppu

Day 4

Takachiho is located just south of the Aso region and offers

dynamic nature and a serene spiritual experience. Beautiful and

breath taking Takachiho Gorge was created by volcanic activity

of the Aso area and this spectacular deep and narrow V-shaped

gorge consists columnar joins carved out by erosion due to the

water flow of the Gokase over many years.

stay 

Aso 

Day 5

Aso region possesses the world's largest Caldera created by 4

periods of explosive volcanic activity in the ancient times. In the

Aso Caldera, there are five mountains including Naka-dake

mountain which is an active volcano where the crater can be

viewed from the top. Daikanbo peak, on the outer edge of the

Aso Caldera is a must place to visit offering panoramic views of

the magnificent scenery including the five mountains of Aso

and the serene and beautiful green plains below.

stay 

Aso 

Day 6

Yanagawa is a beautiful canal town where with fields of flat land

facing the calm Ariake Sea. The area of Yanagawa was created

by reclamation of shallow Ariake Sea which has existed since

and the canal was constructed for people's lives and agriculture.

 Yanagawa  was once a Castle town of the Tachibana domain. 

Features of Yanagawa are the Canal boat cruise and Eel cuisine.

stay 

Fukuoka 

Day 7

The biggest city in Kyushu and is considered the gateway to the

country due to it's close proximity to the Asian mainland. This

energetic and bustling city is the center of Kyushu's politics,

economy, culture, fashion and tourism.

Enjoy shopping and authentic Japanese cuisines.

stay 

Fukuoka 

Day 8

Return to Home

 
---
Price
・4 to 5 persons : from JPY 283,000 person 
      Private vehicle with 9 seats, English speaking driver, 
      Double occupancy room accommodation
・6 to 7 persons : from JPY 215,000 person 
     Private vehicle with 9 seats, English speaking driver, 
     Double occupancy room accommodation
・8 to 15 persons : from JPY 191,000 person
     Chartered bus with 25 seats, English speaking tour guide, 
     Double occupancy room accommodation
・16 to 20 persons : from JPY 161,000 person
     Chartered bus with 45 seats, English speaking tour guide, 
     Double occupancy room accommodation
---
Itinerary
Welcome to Fukuoka! You will be greeted our representative

Drive to Ukiha spread in the Chikugo 

Fruits picking such as persimmon, strawberry and apple 

Visit Ukiha Inari Shrine

  enjoy breath taking scenery harmonizes with the Shrine

  the 90 vermilion coloured Torii Gates stand on the 300

  steps stairs

Lunch at authentic Japanese restaurant, Shirakabe

Visit Shochu brewery

  Shochu is a Japanese distilled alcohol beverage

Stay Harazuru Onsen Resort

  The quality hot spring is weakly alkaline and sulfur is mixed

  and has the effect of dropping old horn and creating beautiful

  skin.

Dinner at the Hotel
---
Day 2   Beppu
After breakfast, check out the Hotel in Harazuru Onsen

Drive to Beppu 

Beppu is one of the most famous Onsen resort in Japan

Go up to Mount Tsurumi by the Ropeway

  Soaring 1375 metres into the sky, and a breathtaking view

  overlooking Beppu can be enjoyed

Lunch at local restaurant in Beppu 

  Sea food or Jigoku mushi kobo, the ingredients are cooked

  by Onsen steam

Beppu Hell tour experience

  The most famous sights, the collection of hot spring where

  water bubbles forth from underground

   Visit Umijigoku and Chinoeke jigoku

Stay in Beppu
---
Day 3   Yufuin
Beakfast at the Hotel

Drive to Kokonoe 

Exploring Kokonoe Yume Otsurihashi

  The longest pedestrian suspension bridge in Japan, beautiful

  view from   the thrilling suspension bridge over the Naruko

  river valley

Drive to Yufuin

  Yufuin is beautiful and tranquil Onsen Resort harmonized

  with nature

Lunch at local restaurant in Yufuin 

  such as local cuisine Seiro mushi, Yufumabushi or Sobe noodle 

Exploring Yunotsubo avenue  

  Started near JR Yufuin Station and connected to Kinrinko lake

  There are 70 shops, gift shop, galleries, curiosity item shops as

  well as cafes Kinrinko lake and Floral Village are recommended 

Stay in Beppu
---
Day 4   Takachiho
After breakfast, check out the Hotel in Beppu 

Drive to Takachiho 

Takachiho offers dynamic and beautiful Takachiho Gorge 

Lunch at local restaurant at Takachiho

Exploring Takachiho Gorge

  The narrow chasm cut through the rock by the Gokase River.  

  The nearly sheer cliffs lining the gorge a  re made of slow

  forming volcanic basalt columns. 

Takachiho Gorge boat riding

  Flows down the base of the gorge on a rental boat, the spot

  you can see waterfalls   and the columnar shaped valley

  together is rare in the world

Visit Amamo Iwato Shrine

 The birth place of Japanese indigenous religion, Shinto. Takachiho

  is the site of one of the best  known legends of Japanese mythology.

Drive to Aso 

Stay in Aso
---
Day 5   Aso
Breakfast at the Hotel

Exploring Aso all the day 

Aso Tourist Tram

  The private railroad offering a very scenic ride from Takamori in

  the south east of the caldera

Lunch at local restaurant ; enjoy Aso beef and local cuisine Aso

  dengaku

Drive to Aso mountain area using Aso Minami Panorama Line

Visit Kusasenri-ga-hama

  the beautiful prairie of 785,000 square meter in the crater, spreads in

  northern part of Mount Eboshi that is one of the Aso Five Mountains.

Mount Naka

  the largest active volcano in Japan, its peak is 1592 m above sea

  level. May not be visited depending on the weather condition.

Drive down to North Aso area using Aso Higashi Panorama Line 

Daikanbo

  One the best photo spot in Aso; you can see the perfect view of the

  five peak of Mount Aso. 

Stay in Aso
---
After breakfast, check out the Hotel in Aso

Drive to Yanagasa 

Yanagawa is the Beautiful Canal town Yanagawa, and is a former

  Castle town facing the Ariake Sea and spreading in the Chikugo plain

Canal boat cruise

  the most recommended experience, asmall boat slowly go down

  the river skillfully maneuvered by a boatman with bamboo pole

Lunch : to be selected Eel or Sea food

   Eel Cuisine : Yanagawa is the birthplace of Steamed Eel that has more

  than 300 years history. 

  Sea food Cuisine : Yanagawa is facing to Ariake Sea where many fresh

  and unique fishes

Drive to Fukuoka 

Stay in Fukuoka
---
Day 7  Fukuoka  
Breakfast at the Hotel

Free and Easy in Fukuoka
---
Day 8  
Ater breakfast, check out Hotel
Transfefr to the Airport
Return to Home
---
Map of Kyushu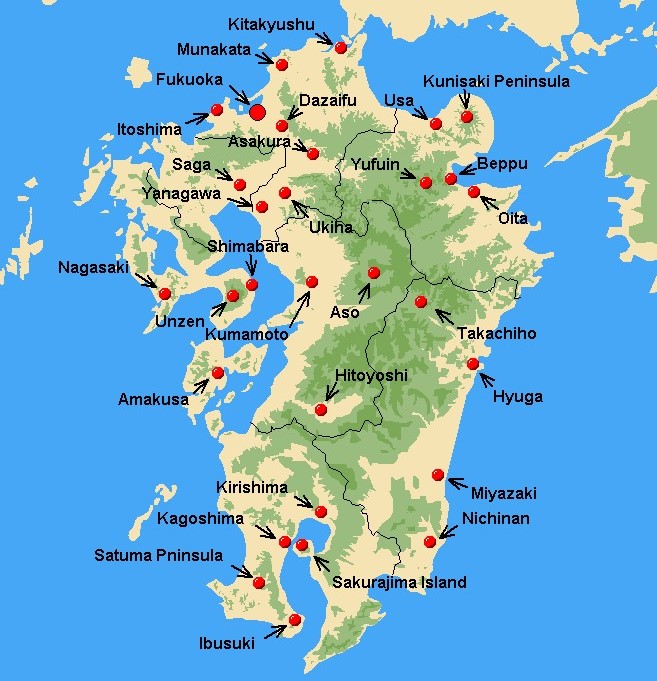 ---
 Home  Our Services   About us   Contact us  Terms and Conditions  Privacy Policy
---