Kitakyushu / UNESCO World Heritage one-day tour
This is the model plan for making your customized tour.
Kitakyushu is the birth place of Steel Making Industry in Japan and greatly contributed to
the development of the Japanese industry modernization.
How to travel
The tour starts from Fukuoka.
For the pleasant travel in accordance with your requirements and preference,
the Private vehicle is used as for transportation.
We propose your own Itinerary per the model Itinerary below.
---
Tour Price
To be quoted as per customer's condition and requirement below;
2) Accommodation
   ・Type : Western style accommodation, Japanese stye accommodation called Ryokan  
   ・Grade : economy, intermediate or luxury
3) Meals :Japanese cuisines, local specialities
---
Itinerary  
8:00 Star the tour at the designated place in Fukuoka

Drive to Kitakyushu 

 

Visit World Heritage and related site in Kitakyushu

  the only one in the world, the Blast Furnace which was actually used

  until 1972, is preserved as it was

First Head Office the Steel Works  UNESCO World Heritage

  Built in 1899, ahead of production facilities. It is an architectural fusion

  of Japanese and European design

Lunch in Kokura

  The reservoir for supplying water to Yawata Steel Works; the construction

  took 8 years and was completed in 1927.  The concept of the designer

  Hisanori Numata was "Civil engineering is an eternal monument"

  The only remaining lenticular truss bridge in Japan  ( lens type truss bridge)

Onga River Pump Station UNESCO World Heritage

  Built in 1910 on the east bank of the Onga River. It is still used to deliver

  industrial water to Yawata via an 11.4 km pipe line

Drive to Fukuoka

18:00 Arrive Fukuoka, end of the tour
---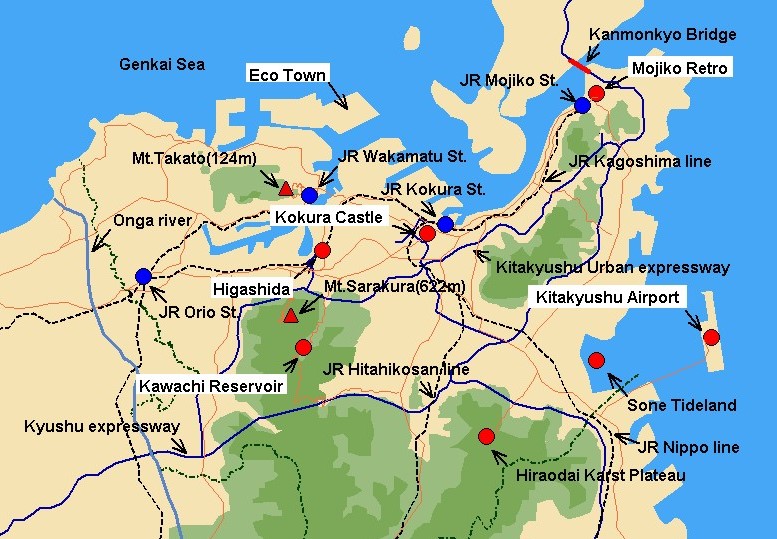 ---
HOME  Our Services   About us   Contact us   Kyushu Travel Guide
---