Fukuoka selected by CNN as 19 best places to visit in 2019
Fukuoka-prefecture only in Japan is selected by CNN Travel as
one of the top 19 places to visit in 2019.
Capital of Fukuoka-prefecture is Fukuoka-city and one of several host cities for
the 2019 Rugby World Cup, Fukuoka is the gateway to the island of Kyushu.
The prefecture consists of Fukuoka-city, Kitakyushu-city, Yanagawa, Dazaifu, Itoshima
and other fascinating regions such as Munakata and Chikugo region.
It's the perfect destination for those looking to go beyond the well-trodden destinations like Osaka,
Tokyo and Kyoto and see a new corner of Japan.
---
Location of Fukuoka-prefecture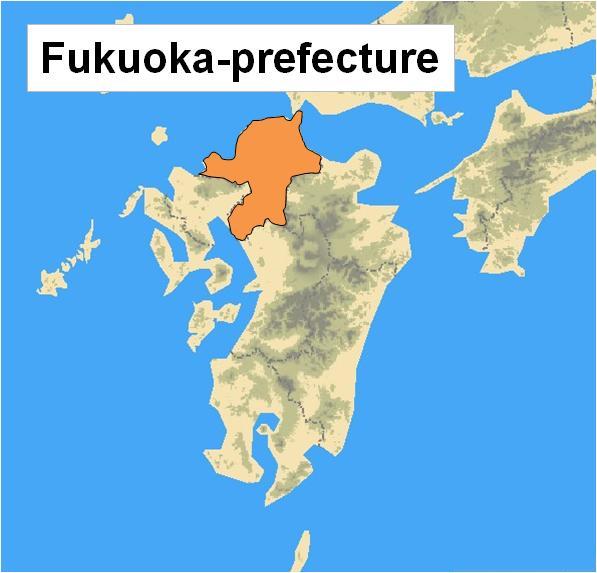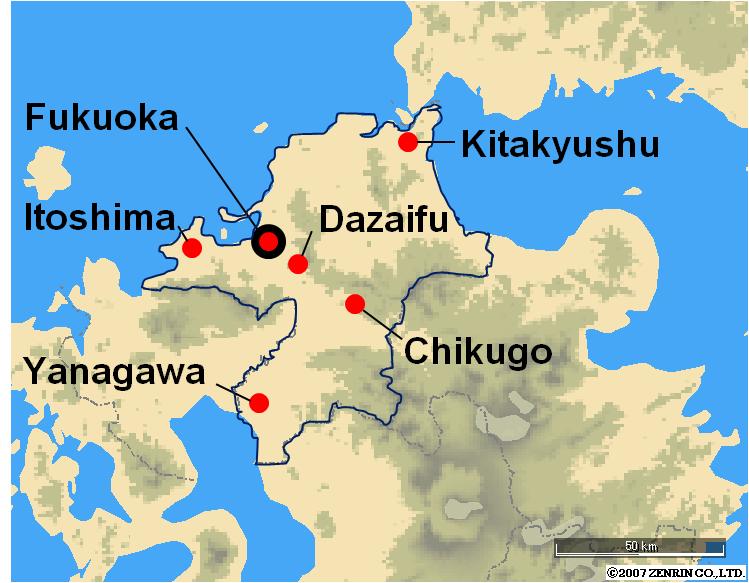 ---
 The places introduced by CNN travel  
Kitakyushu-city announced to
Camp site of Wales
participating in
Rugby World Cup 2019.
Kawachi Wisteria Garden is a private garden at the Mountain foot of Sarakura in Kitakyushu-city
and famous for its spectacularly presented, large numbers of wisteria flowers.
Kokura Castle is one of the most famous land marks in Kitakyushu. The construction was commenced
in 1602 and spent 7 years to completed it.  
---
Canal boat cruise can be enjoyed while experience the atmospheres of Japanese castle town and rural
Japanese  life style. The estuary town facing the Ariake Sea through the Chikugo River and Yabe River.  
| | | |
| --- | --- | --- |
| | | |
---
Historical place Dazaifu About 1300 years ago, in Dazaifu, there was a government office to manage the
entire Kyushu  for a long period of 500 years at the present  Dazaifu.  There are numbers of historical sites 
which reflect to the ancient history of Dazaifu.
Worship Deity of scholarship Shrine, Built on the site of grave of Sugawara Michizane, who is deified as
Tenjin-sama, or the Deity of scholarship. The shrine is the headquarter shrine of 12,000 Tenmangu shrines
in Japan. 
The Museum was opened in 2005 in Dazaifu-city next to Dazaifu Tenmangu Shrine, as Japan's fourth national 
museum after Tokyo, Kyoto and Nara.
---
The gate way to Kyushu and is the biggest cosmopolitan city in Kyushu. Due to its location Fukuoka-city is 
the great starting point for exploring Kyushu. Fukuoka-city has a long history as commercial town and castle
town, and prospered as important district to Asian Continent for many years.   Now, Fukuoka-city is the
International bub of Kyushu, the nation's fourth largest economic zone. 
Fukuoka Chuo Wholesal fish Market 
The Wholesale Market is open to the public on the second Saturday of every month as Citizens Appreciation day.
Time is from 9h to 12h. The Special event is the Tuna Cooking Show, don't miss it.
Food stalls "Yatai" is one thing to enjoy in Fukuoka. Despite a decline in recent year, there are said to be more than 160. The food stalls have all kind of food, but you have to try Hakata ramen, usually made
with white soup from pork bone and thin noodles. 
---
Kyushu short duration tous
Fukuoka-prefecture tour
・ Kitakyushu-city one-day tour
・ Kawachi Wisteria garden & Kitakyushu-city one-day tour
・ Kitakyushu / UNESCO Industry Revolution one-day tour          
・ Yanagawa & Dazaifu one-day tour
・ Munakata & Fukutsu / UNESCO Sacred region one-day tour  
・ Munakata, Oshiama & Okinoshima / UNESCO Sacred region one-day tour
・ Toho village, Asakura and Ukiha one-day tour
・ Yoshii & Yanagawa Hina doll festival one-day tour
・ Kurume & Yame region one-day tour
Kyushu long duration tours
・ 8 days Northern & Central Kyushu tour
・ 6 days North-West Kyushu tour
・ 6 days North-Eest Kyushu tour
---
Should you need further information please feel free to contact us.
Your equiry can be sent by selecting the Enquiry Form link below.
You can also contact us by e-mail at info@japan-kyushu-tourist.com
Tel :  +81-93-521-8897, Fax :  +81-93-521-8898
Address :  AIM buiding 6th floor, 3-8-1 Asano, Kokura-kitaku, Kitakyushu-city, Fukuoka-prefecture 
---