Fukuoka travel guide
Fukuoka-city is the biggest city in Kyushu and the energetic city bustling as the center of Kyushu's
politics, economy, culture, fashion as well as tourism. Fukuoka-city has many kind of fascinating
tourist attractions and abundant tourism materials which are different from the other destinations
in Kyushu. When visiting Kyushu, Fukuoka-city is the place to be incorporate in the travel plan.
And due to its location Fukuoka-city is the great starting point for exploring Kyushu.
---
Welcome to Fukuoka ​
Tenjin

area

Canal City Hakata

 

The largest and busiest JR train

station in Kyushu

The biggest shopping district

in Kyushu 

The complex commercial facility, 

in the heart of Fukuoka-city
---
---
Nakasu

Hakata Ramen at Yatai

In the Hakara bay, beautiful

Flower gardens through the year 

One of the largest entertainment

district in western Japan

Food stalls "Yatai" is one thing

to enjoy in Fukuoka.
---
Where to explore  
 Tochoiji Temle

Hakata

Machiya Furusatokan

Hakata Gion Yamagasa Festival

is held in the shrine 

The oldest temple of the

Shingon sect in Japan

 

The folk museum depicts the life

and culture of Hakata Fukuoka
---
Hakozaki Shrine
 Ohori-koen Park

Part of stone wall and canal, and

the Tamon tower are still left 

Founded in 923, one of the three great Hachiman shrines in Japan

Rich in greenery and encircling

a lake two km in circumference
---
Marinoa City Fukuoka
Yusentei Garden

400 m down town street,

100 shops and restaurants

A large shopping mall, sports equipment store, car accessories

The time-honored Japanese

garden, originally built in 1754
---
---
Hakata-za is the theater for Kabuki plays and is located in the Hakata Riverain in Nakasu
It was originally constructed in 1996.
---
Fukuoka Open Top Bus  / Sightseeing bus in Fukuoka-city
The Open-air deck bus with 3.2m high show you main tourist destinations in Fukuoka-city.
The tour is started from Fukuoka City Hall.
---
Local cuisines and featured restaurants
Food stalls "Yatai"is one thing to enjoy in Fukuoka. Despite a decline in recent year,
there are said to be more than 160. The food stalls have all kind of food, but you have
to try Hakata ramen, usually made with white soup from pork bone and thin noodles.
Ramen Stadium
Ramen Stadium isn't really a stadium as the name suggests, but a food court on the fifth floor
of Canal City's Cinema Building. It carries not one, but eight famous ramen stalls that serves
different ramen styles from across Japan. Ramen Stadium has eight ramen stalls with ramen
from Hakata, Kurume, and as far as Tokyo, Kyoto, and Sapporo.
| | | |
| --- | --- | --- |
| | | |
Mizutaki
It is a local cuisine in Fukuoka.  izutaki (boil in water) describes, this is a hot pot dish made
with chopped chickens, negi, and a variety of vegetables put in a pot of water and boiled,
then dipped in ponzu sauce.
Local restaurants
There are many restaurants for lunch and dinner where you can enjoy authentic Japanese cuisines and
local specialties.
---
Location of Fukuoka-city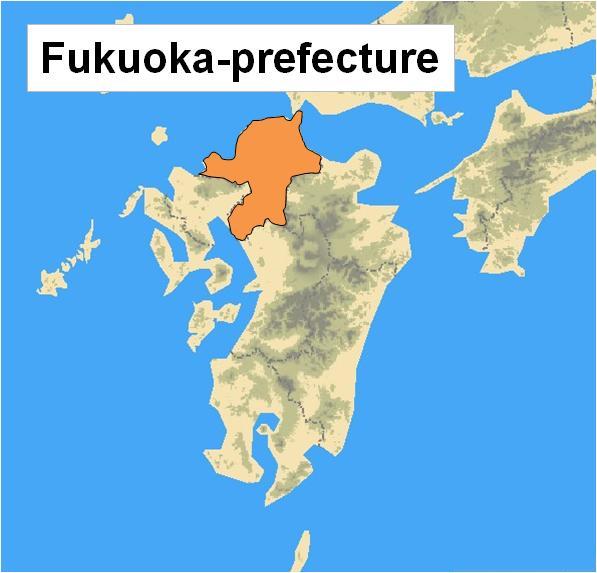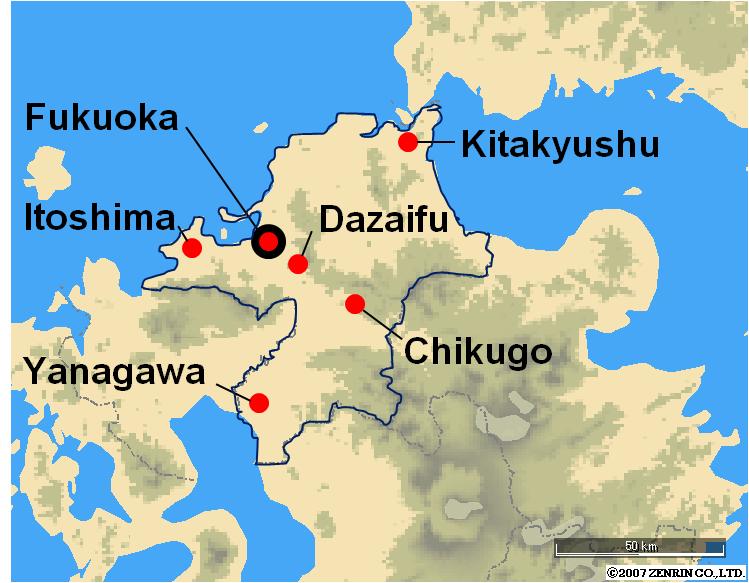 ---
 General information 
Address

City hall : 1-8-1 Tenjin, Chuo-ku, Fukuoka-city, Fukuoka-prefecture

Cabinet designate city

Access

To main destinations in Kyushu by a vehicle

  Ibusuki :  4 hours and 20 minutes,  Kagoshima : 3 hours and 30 minutes

  Miyazaki : 3 hours and 40 minutes ,  Aso : 2 hours and 20 minutes

  Kumamoto : 1 hour and 50 minutes , Beppu : 1 hour and 50 minutes

  Yufuin : 1 hour and 40 minutes, Nagasaki : 2 hours and 10 minutes

  Saga : 1 hour and 10 minutes ,  Kitakyushu : 1 hour and 10 minutes  

Transportation

Airport

  Fukuoka International Airport

  Fukuoka domestic Airport

JR main station : Hakata Station

Ferry

  to Busan, Korea

  to Iki and Tsushima, Nagasaki-prefecture

  to Goto, Nagasaki-prefecture

  to Okinawa

  to Nigata and Hokkaido

City transportation

  Fukuoka City Subway

  Nishitetsu Bus

  Nishitetsu train 

Population

1,570,000      population density : 4,570 / km2
---
Should you need further information please feel free to contact us.
Your equiry can be sent by selecting the Enquiry Form link below.
You can also contact us by e-mail at info@japan-kyushu-tourist.com
Tel :  +81-93-521-8897, Fax :  +81-93-521-8898
Address .  AIM buiding 6th floor, 3-8-1 Asano, Kokura-kitaku, Kitakyushu-city, Fukuoka-prefecture 
---
Tour results
We are offering various types of tours, and the tour results up to now are shown links below. 
Tailor-made tour    Study tour    Golf tour
---
 HOME    About us   Our Services    Terms and Conditions
---