Nagasaki travel guide
Fascinating and distinctive Cultures created from many different
historical features
Nagasaki became a center of Dutch, Portuguese and other European influences in the
16th century and flourished as a trading port & center of Christian missionary activities.
Now, Hidden Christian Sites in Nagasaki region has been registered on the UNESCO
World Heritage.
The detonation for an atomic bomb over Nagasaki during the Second World War is a dark
page in the cities turbulent history. 
At the present, however the city has become a center of peace, blessed with beautiful
natural scenery and eclectic mix of historical sites and architecture. 
​
---
 Exploring Nagasaki  
Glover Garden   / UNESCO World Heritage
Located on Minami-Yamate hill in Nagasaki-city, Glover Garden has nine
Western style buildings including the Glover's Residence built in 1863 by Japanese carpenter
Koyama Hidenoshin. The Glover Residence is Japan's oldest wooden Western-style building
and is the UNESCO World Heritage registered in 2015 as Meiji Japan's Industrial Revolution Site.
Tomas Glover Residence,

World Heritage

Former Mitsubishi second

dock house

Overlooking of Nagasaki

harbour
---
Established in 1955 near the Ground Zero where the Atomic Bomb was dropped 
at 11:02 am on Aug. 09, 1945.
Peace Memorial Ceremony is held in front of the statue on August 9 every year and
the Mayor of Nagasaki makes the "Nagasaki peace declaration" for the whole world.
Completed in 1955, ten years

after the atomic bombing

Reminds the tragic scene unfolded shortly after the

dropped Atomic Bomb

The Atomic bomb exploded

about 500m over the central monument               
---
 World Heritage   Hidden Christian Site
Oura Cathedral  / UNESCO World Heritage
Basilica of Martyrdom of the 26 Saints of Japan.     
One of the famous landmarks in Nagasaki-city, was built in 1865 under the supervision of 
the French priest Bernard Petitjean. It was designated as a National Treasure in 1933 for
its value as Japan's oldest Gothic-style cathedral.
Entrance gate of Oura

Cathedral

Japan's oldest Gothic-style

Cathedral building

Statue of Mary, at entrance of

Cathedral, installed in 1867
---
Martyrdom of the 26 Saints of Japan     
On February 5, 1597, Paulo Miki and 25 others were crucified for their belief in God on order of
Toyotomi Hideyoshi. The martyrs including four Spaniards, one from Goa, India, one Mexican and 
20 Japanese demonstrated their spiritual unity despite differences in races, ages and professions.
Nishizaka hill, the site of

Martyrdom in 1597

The martyrs said that 

" All people, bless God "  

The 26 Japanese martyrs have 

been canonized in 1862
---
Sotome area Hidden Christian Site   / UNESCO World Heritage     
When he discovered the underground Christians, Petitjean realized that there were many other
Christians hiding in the Sotome region.
He appointed de Rotz as the parish priest of the Shitsu and Kurosaki districts.    
| | | |
| --- | --- | --- |
|              Shitsu Church |      Former Shitsu Aid Centre |         The statue of Mary |
---
 Featured destinations  
 

World's three great night veiw 

can be seen from the summit        

The oldest stone arch bridge

in Japan       

Magnificent view of Nagasaki,

on the other side of Mt. Inasa
Only the trading port in Japan

 during Natinal isolation              

Newly constructed church, after destroyed by Atomic bomb

The first Chinese style temple

in Nagasaki
---
One of the three big China

 town in Japan 

 

The world's only Confucian

shrine built outside China by

Chinese hands

The spiritual and cultural hub

for the citizens of Nagasaki
---
Elegant international & domestic

tourist harbour

A Chinese temple to pray for

safe navigation 

Nagasaki-prefecture is the

birthplace of pearls
---
 Featured tours related to Nagasaki 
The one-day tour is operated from Fukuoka-city.
---
Nagasaki Hidden Christian History tour                 
Congratulations on UNESCO's World Heritage Site registration
Japan's unique practice of the Christian faith continued even during the ban on Christianity.
This tour introduce the history of Hidden Christian in Nagasaki Region while taking the World Heritages
and related sites of Nagasaki-city, Shimabara and Unzen.
---
Where to Explore
Saga (Karatsu, Yobuko, Imari, Kashima, Takeo) → Nagsaki  → Shimabara  
Unzen  →   Yanagawa → Kitakyushu  → Fukuoka 
                Location of Nagasaki-city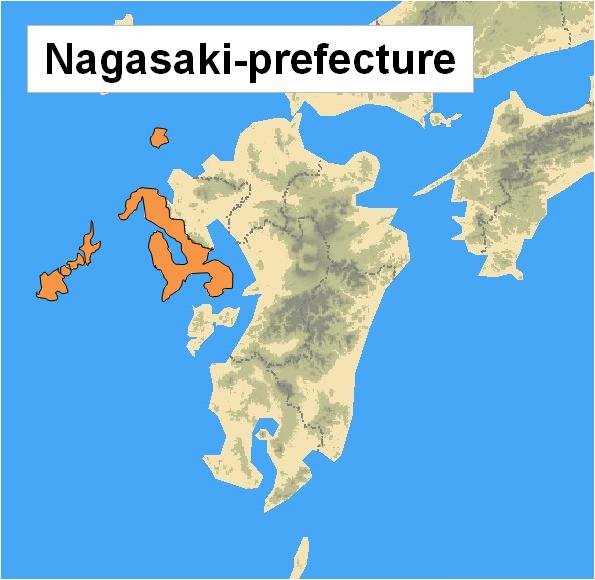 ---
 General information  
Address

City hall : 2-22 Sakura-machi, Nagasaki-city, Nagasaki-prefecture

Access

2 hours and 40 minutes by a vehicle from Kitakyushu-city

2 hours by a vehicle from Fukuoka-city

1 hour and 30 minutes by a vehicle from Saga-city

1 hour and 30 minutes by a vehicle from Shimabara-city

1 hour and 10 minutes by a vehicle from Unzen-city

1 hour and 10 minutes by a vehicle from Sasebo-city

2 hours and 20 minutes by JR express train from JR Hakata Station

Transportation

Tram : Convenient transportation system for sightseeing in Nagasaki-city

Almost all the tourist attractions are located within walking distance

from tram station

Population

418,000   Population density 1,030
---
Should you need further information please feel free to contact us.
Your equiry can be sent by selecting the Enquiry Form link below.
You can also contact us by e-mail at info@japan-kyushu-tourist.com
Tel :  +81-93-521-8897,  Fax :  +81-93-521-8898
Address :  AIM buiding 6th floor, 3-8-1 Asano, Kokura-kitaku, Kitakyushu-city, Fukuoka-prefecture 
---