8 days Northern & Central Kyushu tour
Many fascinating tourist destinations are concentrated from northern part
to central part of Kyushu.
The tour travel 5 prefectures of the 7 prefectures of Kyushu;
  Fukuoka-prefecture,  Saga-prefecture,  Nagasaki–prefecture, 
  Kumamoto–prefecture , Oita-prefecture 
---
 Where to Explore 
Fukuoka   → Saga   → Nagasaki   →  Unzen  → Shimabara  → ,Kumamoto
Amakusa   → Aso   → Okubungo region   →   Yufuin → Beppu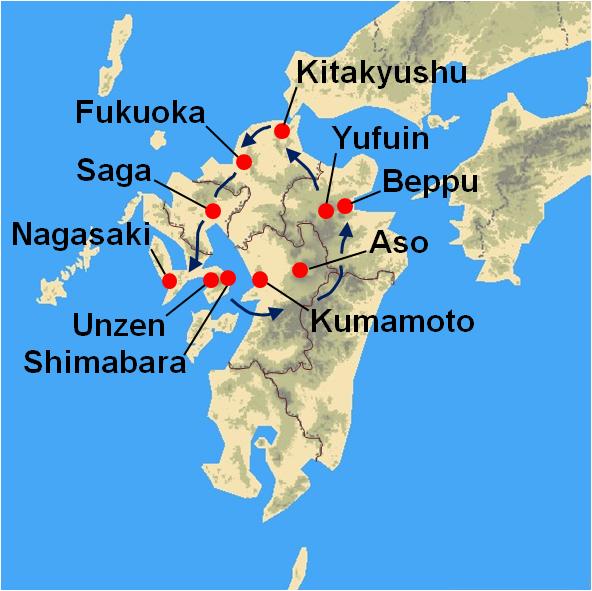 ---
 Itinerary 
Day 1   Saga
Saga is a prefecture in the northwestern part of Kyushu and is located next to Fukuoka-prefecture.
The north side faces Genkai Quasi-National Park with scenic coast line.
In the south, the Saga plain that is adjacent to Ariake Sea is spreading.
Karatsu Castle is called

Dancing Crane Castle

Famous for Squid and Morning Market called Asaichi

Cape of Lovers' sanctuary,

the heart-shaped monument
The porcelain town, has 400

years history

Arita porcelain, bright, elegant pictures drawn in porcelain. 

The Onsen resort, has 1200

years history
Great contribution to the

Japanese Industrial Revolution

Exciting experience, Sake

brewery visiting

One of the most famous Inari

shrines in Japan
---
Schedule
Depart Fukuoka-city
Karatsu → Yobuko → Imari → Kashima →  Takeo
Stay at  Takeo
---
 Day 2  Nagasaki
The city have many oversea countries cultures and the significant Japanese histories
like no other areas. In addition to above features, the geographical conditions are
creating fascinating tourism and now many tourists are visiting here.
Historical features  The following had exprienced in Nagasaki
 Natioanl isolation in Japan, Hidden Christian, Japan's Industry modernization and Atomic bomb
 Elegant international & domestic

 tourist harbour

 Breathtaking panoramic view

 of Nagasaki-city

 One of the World's three

 beautiful night view
 UNESCO World Heritage, the

 largest number of visitor here 

 Let's make World Peace and

 everyone's happiness

 Various gift shops, 

 restaurants, Café lined the street
 The most significant Church, 

  Mother Teresa and Pope visited

 

 Only the trading port in Japan

 during Natinal isolation              

 One of the three big China

 town in Japan 
---
Schedule
Transfer to Nagasaki
Peace Park → Ground Zero → Atomic Bomb Museum
Lunch at China Town  → Glover Garden  → Oura Cathedral  → Dejima
Stay at Nagasaki
---
Located in the Shimabara peninsuka, region spread in the foot of gentle mountain and facing to
calm sea. Shimabara is consist of two cities, Shimabara-city and Minami-Shmabara-city.
Offers various enjoyable things such as Nature, Onsen, Castle town of Shimabara-city,
Hidden Christian history as well as Local Gourmets. 
 Nature, Onsen, Castle town,

 Christianity history, Gourmets.

 Shimabara Castle

 Symbol of Shimabar, almost 

 rectangular flatland castle

Even now, atmosphere in 18th 

 century is still remained    
---
Unzen is a beautiful highland Onsen Resort in Shimabara peninsula situated Unzen National Park 
The first area to be designated as a National Park in Japan and then the area has been developed
as Onsen Resort for both tourist Japanese and foreigner.
Even now, many tourist from all over the world are visiting here for enjoying Nature.
Highland Onsen Resort, different

colour create seasonal beauty

Magnificent scenery of mountain

foot area & Ariake bay              

 

White smoke rising from the   

ground over a wide area
---
Schedule
Transfer to Shimabara
Explore Shimabara  : Shimabara Castle → Samurai Houses and Samurai street
Lunch at  Shimabara, local cuisine Guzoni
Transfer to Unzen
Explore Unzen  : Nita Pass → Unzen jigoku
Stay at  Unzen Onsen Resort
---
 Day 4   Kumamoto
An archipelago located west side of Kumamoto, beautiful landscape, seafood and 
local delicacies and marine activities can be enjoyed.
Amakusa are connected to Shimabara by the Ferry and to Kumamoto by the bridges.
9 inhabited islands & numerous 

islands floating on a tranquil sea

Main islands are connected with

Amakusa Five bridge, Pearl line

Hidden Cristian site of Oe

Cathesral and Sakitsu Village
The Castle in Amakusa Island

built in 1605

One of the most exciting

exprience in Amakusa

There are two Onsen,

Matsushima and Shimoda
---
Situated roughly in the center of Kumamoto Prefecture, is the government and
economic center of the prefecture. From the early 17th century to the end of the 19th century,
Kumamoto was prosperous as a castle town.
The third most populous city in

Kyushu, called city of the forest

 One of Japan's three great

 Castle, built in 1600

Under restoration work, can be 

visited from the outside
Suizenji-koen Park  Imitated the beautiful scenery 

 of Japan

The biggest shopping district in

Kumamoto-prefecture

Main destinations are connected

from JR Kumamoto Station
---
Schedule
Transfer from Shmabara to Amakusa by a ferry boat
Explore  Amakusa  
Transfer to Kumamoto
Explore  Kumamoto ; Kumamoto Castle, Suizenji-koen Park
Stay at Kumamoto
---
 Day 5   Aso
The world's largest caldera and the active volcano give a lot of excitements.
And numerous unforgettable experiences in the rural area can be mede including Onsen,
variety of sports and local cuisines.
Enjoy numerous unforgettable

experiences in the rural area

The perfect spot view of Aso

region, Caldera & Mount Aso 

The beautiful prairie of 785,000

square meter in the crater 
The largest active volcano in Japan, and is among the largest in the world. Its peak is 1592 m above sea
level. Its caldera is 25 km across north to south and 18 km across east to west.
| | | |
| --- | --- | --- |
|   Mt. Aso, around the Crater  |    Look down the Crater |    Nakadake Crater |
One of the oldest and most

prominent shrines in Japan

The best places to enjoy the

atmosphere of real Japan

Very unique waterfalls, can be

climbed behind the falls
---
Schedule
Explore Aso :  Daikanbo, Kusasenri-ga-hama, Mount Aso, Aso shrine 

Stay at Kurokawa Onsen
 Local cuisines are enjoyed at Ryokan
---
 Day 6    Yufuin and Beppu  via  Okubungo region
The region is on the way to Yufuin and Beppu from Aso, the travelling route can be proposed
as per your preference.
The area is a nature-blessed region at Ono River basin, and the northern part is surrounded by
Aso & Kuju Mountains
A magnificent and beautiful

scenery of Kuju plateau

 Yamanami Highway, best

driving route enjoy Nature     

Japan's longest pedestrian

suspension bridge, world's 2nd 
---
Graceful Onsen Resort located in the Yufu basin surrounded by Mount Yufu and Tsurumi.
One of the most popular among ladies and International tourist visits to here are increasing. 
 Gentle mount Yufu can be seen

 graceful Onsen Resort

 In front of JR Yufuin Station
 a elegant street appear

 70 shops, gift shops, galleries

curiosity item shops, cafes   
The old public outdoor mixed

bath with a thatched

The landmark in Yufuin, hot

water gushes from the bottom 

Reproduced the townscape of

the Cotswold region in England
---
The popular hot spring town nestle at the foot of volcanos, Mt. Yufu and Mt. Tsurumi.
Boasting more than 2,800 hot spring sources and flowing rate of nearly 137,000 kiloliters 
Japan's largest hot water yield

Onsen facing to Bappu bay

The highest place Onsen district,

many old style public bathes

 One of the most popular Onsen

 district in Beppu
collection of hot spring,the water

bubbles forth from underground

Bathing can be enjoy without 

take all clothing off

 About 1700 wild Japanese

monkey are living
---
Schedule
Transfer to Yufuin through Okubungo
Exloring Yufuin
Trensfer to Beppu
Explore  Beppu : Beppu Hell tour → enjoy Foot bath
Stay at  Beppu
---
 Day 7    Kitakyushu
Three Major Night View in Japan from Mount Sarakura is to be experienced.
Kitakyushu is the second largest city in Kyushu with a population of 940,000.
The city is the Industrial Innovation city greatly contributed to Japan's Industrial modernization.
Now Kitakyushu offers a lot of sightseeing spots such as scenic beauty places,
UNESCO World Heritage site, industrial heritages, placed introduce cultures of people living there,
and various historic sites.  
Kitakyushu's land mark, walking

distance of Kokura Stations

Down town shopping street,

various shops, restaurants, bars

One of the three largest karst

plateau in Japan 
The suspended bridge crossing

the Kanmon Straits

The exotic district, former trading

port coal and other products

Only the place in the world,
can be crossed the strait on foot
Sites of Japan's Meiji Industrial

Revolution

The birth place of Steel making

Industry in Japan 

The Three Major night view

in Japan
---
Transfer to Kitakyushu
Kukura Castle → lunch at Kokura
Mjiko Retro and Konamon Pedstrian tunnel
Mount Sarakura : enjoy beautiful sunset and the three Major Night View in Japan  
Stay at  Kitakyushu  
---
 Day 8    Fukuoka
Fukuoka-city has a long history as commercial town and castle town, and prospered as important
district to Asian Continent for many years.   Now, Fukuoka-city is the International bub of Kyushu,
the nation's fourth largest economic zone. 
In other words, Fukuoka-city is the heart of Kyushu against various things,
such as food culture, shopping, entertainment, economy and international business.
The largest and busiest JR train

station in Kyushu

The water-front resort area JR

Hakata Station and Tenjin

The biggest shopping district

in Kyushu 
Fukuoka Open top bus tour,

three courses for journey

Japan's highest coastal tower, magnificent view from the top

The oldest temple of the

Shingon sect in Japan
Hakata Gion Yamagasa Festival

is held in the shrine 

400 m down town street,

100 shops and restaurants

One of the largest entertainment district in western Japan
---
Schedule
Transfer to Fukuoka-city
Exploring  Fukuoka-city
Stay in  Fukuoka-city 
---
 How to make your customized tour  
1. Enquiry
 The tours we are offering are customized for private travel accordance with your preferences
 and date,  click the   Enquiry Form   to tell us what you are looking for.
2. Proposal
・Preliminary quotation which is guide line of the tour price as per the Enquiry.
・Basic suggested itinerary will be provided.
3. Clarifications
 All the tour conditions are to be clarified including the grade & type of accommodations,
 transportation, visiting placed, meals and other excursions, in order to meet your requirements
 and budget.
4. Final proposal
 The quotation and itinerary are provided based on the Clarification.
5. Make an agreement 
 The agreement for proceeding the customized tour is conducted.
6. Enjoy the customized journey 
  All the arrangement are made as per the agreement and operated the tour in
  accordance with the plan
---
Should you need further information please feel free to contact us.
Your equiry can be sent by selecting the Enquiry Form link below.
You can also contact us by e-mail at info@japan-kyushu-tourist.com
Tel :  +81-93-521-8897 ,  Fax :  +81-93-521-8898
Address :  AIM buiding 6th floor, 3-8-1 Asano, Kokura-kitaku, Kitakyushu-city, Fukuoka-prefecture 
---