11 days Kyushu tour
Exploring throughout Kyushu where is the fascinating destination of Japan like no others.
Enjoy Japanese cuisines, local delicacies, Nature, Onsen, Shopping of local specialties
and any other amazing things what you have never experienced before.
.
Where to Explore 
Fukuoka-city  →  Nagasaki  → Shimabara   → Unzen  →  Kumamoto  → Amakusa 
Ibusuki    → Chiran  →  Kagoshima & Sakurajima Island   → Kirishima  
Nichinan & Miyazaki  →  Hyuga   → Takachiho   →  Aso  → Okubungo region
Yufuin   →  Beppu   → Kitakyushu-city  → Fukuoka-city
---
 Travelling route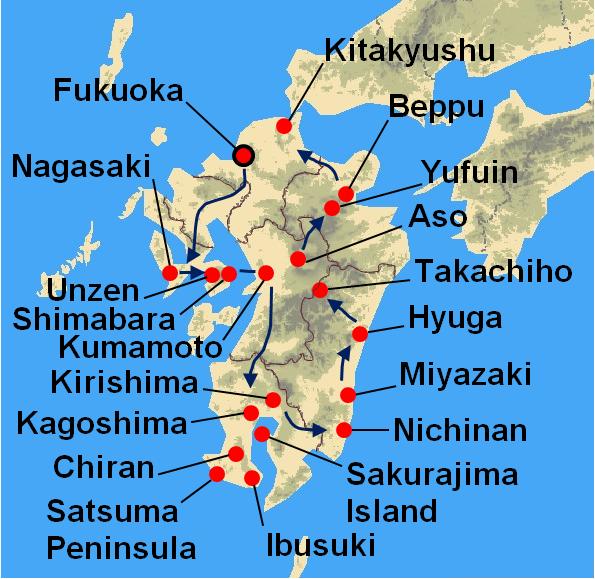 ---
Tour conditions 
The tour is the private tour exclusively for your group.
・Minimum number : 2 person
・Maxum number : 30 person
・Tour date : please specify the date
・Accommodations is selected as per your required grade, room conditions and budget
 and the location is considered sightseeing, dinner and nightlife as well.
・Chartered vehicle is utilized as per number of person.
・English speaking tour attendant escorts your journey to produce a pleasant trip.
・For making enjoyable our company staff always assist during tour by  
 communicating with you using a communication tool such as WhatsApp. 
---
 Itinerary  
Day 1   Nagasaki
Itinerary
Arrive at the Fukuoka airport
Transfer to Nagasaki-city
Exploring  Peace Park 
  Atomic Bomb Museum   → Ground Zero  →  Peace Statue &  Peace Fountain
Lunch at Nagaaki Wharf or China Town 
Oura Cathedral  → Glover Garden  → Dejima
Stay at  Nagasaki-city , Western style Hotel, included breakfast
Dinner around JR Nagasaki station, local speciality Cuisines  
Option : the following sites can be arranged as option.
Night view of  Mount Inasa
Martyrdom of the 26 Saints of Japan     
---
Where to explore
One of Must visit destination in Kyushu.  The city have many oversea countries cultures
and the significant Japanese histories like no other areas.  In addition to above features,
the geographical conditions are creating fascinating tourism and now many tourists are
visiting here.
Established in 1955 near the Ground Zero where the Atomic Bomb was dropped at 11:02 am
on Aug. 09, 1945. Peace Memorial Ceremony is held in front of the statue on August 9 every
year and the Mayor of Nagasaki makes the "Nagasaki peace declaration" for the whole world.
Completed in 1955, ten years

after the atomic bombing

The Atomic bomb exploded

about 500m over the central 

monument    

Exhibits a number of photograph 

that depict the devastation

caused by atomic bomb
---
Lunch at Nagasaki Wharf or China Town
Elegant international & domestic tourist harbour. Made up of around 20 unique shops and
restaurants lined up at the water front, offering various choices such Japanese, Western,
and Italian cuisine, to beauty salons, outdoor shops and more.
Nagasaki China town at shinchi is one of the big three china town in Japan.
There are about 50 Chinese restaurants and many Chinese sundries shops in there.
| | | |
| --- | --- | --- |
|     | | |
---
The most significant Church, 

  Mother Teresa and Pope visited

UNESCO World Heritage, the

 largest number of visitor here 

Dejima

Only the trading port in Japan

 during Natinal isolation              
---
Option
It is a 333 meter high mountain in close distance to JR Nagasaki Station. The summit can be
reached by ropeway or car and offers great views over the city. And also, the magnificent night
views from Mount Inasa are ranked among Japan's three best night views.
Veiw from Nagasaki harbor

 

View from the Summit 

World's three great night veiw  
---
Martyrdom of the 26 Saints of Japan     
Nishizaka hill, the site of

Martyrdom in 1597

The martyrs said that 

" All people, bless God "  

The 26 Japanese martyrs have 

been canonized in 1862
---
The world's only Confucian shrine built outside China by Chinese hands First built in 1893
by Chinese residents of Nagasaki with the support of the Ch'ing Dynasty government, the
shrine was designed to serve as a place of worship and learning for the Chinese community,
and housed a Confucian sanctuary and primary school. 
 Entrance of Confucian Shrine

Confucian shrine only built

outside China

  The 72 followers of Confucius
---
Hashima Coal Mine  /  Gunkan-jima island cruise
Hashima coal mining island is an artificial reclaimed island and the site of Japan's first major
undersea coal exploitation (1890) pioneered by Mitsubishi – and host to one of the world's
most extraordinary former mining communities. Hashima Island is located 3 km southwest
of Takashima, and it was the success of Takashima that led Mitsubishi to purchase this island,
both islands giving access to the same undersea coal deposit. Now Hashima is a ruin called
"Gunkanjima",  so called after its resemblance to the silhouette of a battleship.
From Nagasaki port, the cruise

ship take you to Gunkan–jima

island.

The artificial reclaimed island

for Coal Mine

The site of Japan's first major

undersea coal exploitation 

ioneered
---
Stay
Nagasaki -city
Most Hotels are located close to the main street and walking distance from Nagasaki
tram stations. And you can find many restaurants around the Hotels.
 

 JR Nagasaki Station

 Main street of Nagasaki-city

 Nagasaki tram
---
Dinner at Nagasaki-city
Local restaurants
Sushi restaurant
Beef restaurant
---
Itinerary
Leave Hotel in Nagasaki
transfer to Shimabara
Shimabara Castle → Samurai Street
Lunch at  Shimabara,  local cuisine Guzoni or Indian food
transfer to Unzen
Stay atUnzen Onsen Resort  Japanese style Hotel,  included dinner and breakfast
Dinner at Hotel : Japanese style kaiseki dinner including local specialty cuisines
Option : the following sites can be arranged as option.
The Japan's longest foot bath in Obama
---
Where to explore
Located in the Shimabara peninsula, the region spread in the foot of gentle mountain
and facing to calm sea. Shimabara is consist of two cities, Shimabara-city and
Minami-Shmabara-city.
Offers various enjoyable things such as Nature, Onsen, Castle town of Shimabara-city,
Hidden Christian history as well as Local Gourmets. 
Located in Shimabara-city and was built in 1625 by the feudal load Matsukura Shigemasa, who
was regarded as a master of castle building. The castle, which took 7 years to complete, is also 
known as "Moritake Castle".
| | | |
| --- | --- | --- |
| Donjon of Shimabara Castle | Moat of the Castle planted lotus | Great stone wall of moat |
---
Samurai Houses & Samurai street
Samurai was a term for the military nobility in pre-industrial Japan.
The Samurai houses in Shimabara along the old Samurai street nearby Shimabara Castle
were built in 18th century.
| | | |
| --- | --- | --- |
| Samurai street | Samurai house | Japanese garden |
---
Lunch at Shimabara, local delicacy food, Guzoni
Guzoni are said to date back to the Shimabara Rebellion of 1637 when the leader of the
uprising, Amakusa Shiro Tokisada, held a siege in Hara Castle with about 37,000 followers.
He made the local farmers provide the rebels with rice cake. The rebels gathered other
ingredients from the ocean and the mountains to put in the soup they cooked the rice cake
in, and thus were able to fight for three months sustained by nutritious food.
---
Obama Chanpon 
It is a local cuisine in Obama Onsen resort, made of noodles, seafood, and vegetables.
The feature of the restaurant in Obama Onsen serving everything from any Japanese style including
Susi and Chanpon. Shrimp are found in abundance along the beaches near the Onsen, and a special
soup is made from them.
---
Indian restaurant, TAJ MAHAL
---
Unzen is a beautiful highland Onsen Resort in Shimabara peninsula situated Unzen National
Park. The first area to be designated as a National Park in Japan and then the area has been
developed as Onsen Resort for both tourist Japanese and foreigner. Even now, many tourist
from all over the world are visiting here for enjoying Nature.
One of the best scenic spot in Unzen. At any time of the year the natural scenery of Nita Pass 
in Unzen is magnificent. Azaleas, green leaves, brilliant autumnal tints of maples and silver frost
represent each season of the year.
    Entrance to Nita pass

    Nita pass Observetory

 Rope way to Myoken

 mountain
---
Jigoku, means Hell, is the number one attraction of Unzen with a peculiar smell of sulfur
emitted from the springs, and with white smoke rising from the ground over a wide area.
This is a striking reminder that Unzen Volcano is still very much alive.
Peculiar smell of sulfur

emitted from the springs,

Smoke rising from the ground

over a wide area

Observetory place
---
Option
Approximately 300 wild Dolphins live in the sea between the Shimabara Peninsula and Amakusa.
The dolphin watching cruises have become increasingly popular for all ages, especially because
it is possible to see the dolphins so close that you could almost touch them.
---
Site of Historic Battle field of Shimabara Rebellion and is a Christian Pilgrimage site,
registered on UNESCO's World Heritage Site as Hidden Christian Sites in the Nagasaki Region,
to tell the Christian faith continued even during the ban on Christianity. Located in Minami
Shimabara-city, the Battle field of Shimabara Rebellion which was a peasant uprising agaist
bakufu's persecution of Christians under the leadership of Amakusa Shiro in 1637.
Entrance to Harajo Castle

Ruins

Battle field of Shimabara

Rebellion

The Statue of Amakusa Shiro
---
The Japan's longest foot bath in Obama
Called "Hot foot 105"  The length of foot bath is 105m which is same number of the hot spring
source temperature of 105 degree Celsius.
" Hot foot 105 " is the Japan's

longest foot bath, 105 meter 

Hot spring source temperature

of 105 degree Celsius

Obama Onsen Resort, located

at the mountain foot of  Unzen 
---
Local specialities, Souvenir shop
---
Stay
There are 17 Hotels and Japanese style inns around Unzen Jigoku.
From every hotel,  beautiful scenery which changes by season can be enjoyed.
 Bus Center in Unzen Onsen

 Resort

 Many hotels arelocated around

 Unzen Jigoku

Each season brings a vivid

change to the appearance 

the face of Unzen
Itinerary
---
Where to explore
Transfer to Kumamoto from Shimabara by a ferry
Two ferries are operated form Shimabara to Kumamoto–city
Kyusho Ferry : operated by Kyusho Ferry, 60 minutes ride
Ocean Arrow : operated by Kumamoto Ferry, 30 minutes ride.
| | | |
| --- | --- | --- |
|   Shimabara port |   Ocean Arrow |   Kumamoto port |
---
Lunch at Kumamoto
Japanese restaurant, Gorin located nearby Kumamoto Castle
Josaien is located in Sakurano-baba, at the foot of Kumamoto Castle, one of Japan's three
major castles. It is a popular tourist attraction designed to enhance the appeal of the old castle
town and convey to visitors the food, history and cultural traditions of the region from Kumamoto
Castle, a symbol of the Kumamoto-city.
The main gate located in

Sakurano-baba

Many shops sell Kumamoto

souvenirs

Restaurants, to enjoy distinctive

food culture in Kumamoto
---
The Castle is one of the three great castles and one of the 100 best places in Japan to
view cherry blossoms. Due to the Earthquakes in 2016, several of the castle's shacihoko 
ornaments were destroyed, and a large number of kawara tiles also fell from the roof.
Now the restoration activities are being performed as fast as possible. Now, the Kumamoto
Castle can be seen from the outside of the moats surrounding the castle.
| | | |
| --- | --- | --- |
|   Castle tower |   Castle tower after Earthquake  |   Turret |
---
Imitated the beautiful scenery of Japan, is a refined circular garden of Momoyama period
style and represents the 53 Stations of the Tokaido Road including Mt. Fuji.
The fresh springs in the garden release clean, cold water, which flows there from
Mount Aso via underground currents.
Imitated the beautiful scenery

of Japan

53 Stations of the Tokaido Road

including Mt. Fuji

The fresh springs in the garden

from Mt. Aso
---
Stay  
Kumamoto near Shimo-tori Shopping Street       
The largest shopping arcade in Kumamoto-prefecture, the center of fashion and amusement
where department stores and boutiques line up and also there are gourmet area where cafes
and restaurants including local cousin restaurants opened daytime and nighttime.
 Enjoy shopping at arcade

 street

 Many kind of restaurants

 and pubs

Japanese traditional restaurant

 Izakaya
Option : the following site can be arranged as a option.
A circumference of 15 km and a maximum depth of 233 meter, where was created by
volcanic activity long ago. Large eel with a length of 2 meter and circumference of 50 cm
inhabit the lake. It was also known as the lake of a legendary monster called " Issy" 
purported to live in the lake. 
  Monster called Issy

  Flower garden

           

  Mount Kaimon
---
The unique Somen noodle nagashi in Tosenkyo revine in Kaimon open throughout the 
year serving cold Somen noodle that swim in the revloving container.
 Entrance of Tosenkyo revine

 Restaurant

Somen noodle that swim in the

revloving container
---
Ryugu Shrine is located at Nagasaki-bana Cape, the southernmost point of Satsuma peninsula.
Nagasaki-bana Cape is said to be the birthplace of the legend of Urashima Taro who saved a turtle,
it took him to Ryugu-jo (the Palace of the Dragon as a token of it's gratitude).
Sea turtles come to lay eggs on the beach near this place, and local people love them as the
protective god of the sea.
 Entrance of Ryugu Shrine

 and Nagasaki-bana Cape

   Ryugu Shrine

 Nagasaki-bana Cape
---
Ibusuki Onsen resort   Enjoy sand bath
It is best known for its steaming sand baths along the beach, where bathers in a yukata, or
Japanese bathrobe get buried in the sand up to their neck.  The sand heated by steam containing
marine minerals is scientifically proven to have therapeutic effects on neuralgia, rheumatism, back
pain and other ailments.
  Sand bath hall, changing room

  shower facilities

  Steam Sand bath facing to

  Kinko Bay

  Enjoy taking Steam Sand

   bath
---
Option
Samurai Residence were built about 250 years ago. Their gardens are beautiful desighned,
with Mt. Hahaga-dake as the background. Chiran Peace Museum for the Kamikaze Pilots 
exhibits precious materials such as pictures, letters, wills, articles and memontos of the
1,036 Kamikaze pilots based in Chiran.
 Time back to 200 years ago,

800m long street and residences

The beautul gardens at

residence shows the history

The museum is located at

former Chiran zero-sen airbase
---
Stay
Ibusuki
Most Hotels are located near JR Ibusuki station and facing to Kinko bay and sand
bath can be enjoyed during stay in Ibusuki. Dinner of local cuisine offer at the Hotel
 

Welcome to Ibusuki, JR Ibusuki

Station

Sunamushi Kaikan or Public

Sand Bath Hall

Hotels facing to Kinko bay
---
Day 5    Kagoshima  &  Sakurajima Island
Leave Hotel in Ibusuki
Transfer to Kagoshima-city
Exploring : Kagoshima, Sengan-en Garden and Shoko Shuseikan
transfer to Sakurajima Island by a Ferry
Exloring Sakurajima Island
Stay at Kagoshima-city Tenmonkan, Western style Hotel, included breakfast
Dinner at Kagoshima-city, local specialty cuisines 
---
Where to explore
Sengan-en / UNESCO World Heritage
Sengan-en is the most famous garden in Kagoshima-ken, made by Shimazu lord in the 
19th century at the beautiful bayside Kinko bay. The garden contains many historic artifacts
that tell of its long history.
         

   Mount Sakurajima

  Shimazu family residence

  Suzumon gate
---
Shoko Shuseikan Modern Industrial Complex   / UNESCO World Heritage
The museum of the Classics located here exhibits a various of objests related to the Shimazu
family and the Satsuma domain, introducing a Shimazu family tree chart and many other
belongings. The stone buiding which houses the collection has been desighnated on the
UNESCO World Heritage,  Sites of Japan's Meiji Industrial Revolution
  Shoko Shuseikan

 Reflectaance furnace

  

 Base of Reflectaance furnace
---
Sakura-jima Ferry connects Kagoshima-city and Sakura-jima Island in 15 minutes
and is operated for 24 hours.
| | | |
| --- | --- | --- |
|  Kagoshima port |  To Sakura-jima Island |  Sakura-jima Port |
---
An active strato volcano with three peaks, Kita-dake, Naka-dake and still active Minami-dake.
Formerly an island, it became connected with the Osumi Peninsula in 1914 when lava from its
summit closed the channel between the two.
 

  Still active volcano   

 

 Yunohira Observatory

   

 Arimura Lava Observatory        
---
Stay
Kagoshima, Tenmonkan
Tenmonkan is the main shopping district where the Tenmonkan arcade abounds
with shoppers at all sorts of restaurants, some of which specialize in Kagoshima
cuisine, as well as cafes and boutiques.
 

 JR Kagoshima Chuo station

Restauraants and Japanese

public bars

Shopping arcade
Option : the following sites can be arranged as option.
Wlild horses are living here. Gentle hills extend, and you can observe wild horses, called Misaki-uma,
living and grazing there. It is said that the Misaki-uma are the descendants of army horses left grazing
and which became wild 300 years ago.
Located at southernmost part

of the Nichinan

Wlild horses are living at the

gentle hills

 Visitor Center, souvenir shop
---
Beautiful and exciting Shine,  located the cave of the cliff side facing the Pacific Ocean.
In legend, a goddess of sea built a hut to give birth to a great god here. Then it is said that
Empress Suiko (554-628) built the shrine there.
Located the cave of the cliff side

facing the Pacific Ocean

 Shrine in the Cave

Pray place facing to Pacific

Ocean
---
Japan's own replica of Moai Statues. Enjoy a breathtaking panoramic view of the Pacific
Ocean, the Sun Messe Nichinan has replicas of the Moai statues from the Easter Island
placed here and there in the area.
Breathtaking panoramic view

of the Pacific Ocean

Moai statues from the Easter

Island placed here

The only place that has been

permitted to replicate
---
The suggested sightseeing spot in Nichinan. The 60m altitude pass allows you to look down
at a beautiful view of the Pacific Ocean. The coastline here is lined with rocks that have been
worn away by the waves splashing against them, as well as beautiful phoenix palm trees.
The Horikiri Pass Phoenix

Road Station

Beautiful phoenix palm trees

The rocks have been worn

away by the waves splashing
---
Stay
Miyazaki
| | | |
| --- | --- | --- |
|   Shopping street |  Japanese style pub |   Enjoy dinner |
---
Where to explore
Your dream come true here. The Cruz Sea is an area of ocean that appears to have a cross in
it when viewed from an observatory. This cape is known as a ria coast; the "cross shape" was
created by the narrow terrain here being eroded by rivers, resulting in a cross-shaped sea route.
Observatory place

Your wishes come true here

"cross shape" was created by

the narrow terrain here being

eroded by rivers

Beautiful phoenix palm trees

facing to Pacific Orcean
---
Exciting scenery created by raging wave of Hyuga Sea. The coastline here is a ria coastline,
marked by intricate waterways sandwiched between cliffs. The cliffs here are 70m high and
the waves' splashing against them is an enchanting sight.
 

Exciting scenery created by

raging wave

 

The cliffs are 70m high and the

waves' splashing against them

 

Bare rock faces of the cliffs have

given way to columnar joints
---
Let's meet the old days of Japan. The area in the city is designated a National Important
Preservation District for Groups of Historic buildings, and there remain much of the atmosphere 
of the 19th century, including buildings of old times, earthen walls, and stone pavements.
Mimitsu fishery port

 

The ancient myths set down in

Japan's oldest books

Designated a National Important

Preservation District 
Located in the center of the Kyushu mountain area where about 40km away from
Aso and is steeped in Japanese mythology.
It is the supposed site of legend where Amaterasu, the Shrine Sun Goddess, disturbed by
her brother's cruel pranks, hid herself in a cave, prompting the other gods and goddesses
to try and lure her out.
The narrow chasm cut through the rock by the Gokase River. The nearly sheer cliffs lining 
the gorge are made of slow forming volcanic basalt columns which resemble the scales of
a dragon where the stone twisted and flowed as it formed.
The narrow chasm cut through

the rock, boat riding experience

Exploring Takachiho Gorge

using the walk-way

Souvenir shops and 

Restaurants
---
Lunch , Somen nagashi
Somen is a kind of noodle which is made by wheat and is usually eaten by dipping style.
Somen nagashi is the way of eating Somen with waterslide traditionally made by bamboo
like as video below. Nagashi means flowing.
---
The most recommended activity at Takachiho Gorge is riding the river that flows down the
base of the gorge on a rental boat.The spot you can see waterfalls and the columnar shaped
valley together is rare in the world. Please enjoy this amazing view from the boat.
---
Located just west of the town center, is nestled in a grove of tall cedars. During the day
the shrine's nondescript, unpainted buildings blend in naturally with the surrounding trees.
The light that filters through, brings with it an air of calm, peaceful reverence.
| | | |
| --- | --- | --- |
| Entrance of Shrine, Torii gate |  The sacred tree, 800 years old | Shrine main building |
---
Japanese indigenouse religion, Shinto born here.
There is a story of Shinto origin in the Cave behind of Amano Iwato Shrine, and Amano
Yasugawara. About ten kilometers outside of central Takachiho, Amano Iwato Shrine
was built near the Cave where is place of the Shinto origin story.
 

 The God shows the story of

 Shinto origin

 Amano Iwato Shrine, there is the

 Cave behind the shrine

 Amano Yasugawara,  Gods &

 Goddesses had a discussion
Leave Hotel in Takachiho
Transfer to Aso
Enjoy the magnificent scenery by Aso Tourist Tram
Lunch at Minami Aso : Local cuisines
Exploring Aso
  Kusaenri-ga-hama  → Mount Aso → Daikanbo
Stay at Aso, Kurokawa Onsen  or Onsen resort Aso
  Japanese style Hotel, including dinner and breakfast
Option : the following site can be arranged as a option
---
Stay
The most popular hot spring resort in Aso region, located on the northern side of  Mount Aso 
Widely known for its open-air baths, it is one of the best places to enjoy the atmosphere of
old town in Japan, where more than 20 Inns (Ryokan)and gift shops standing in a row
along the Tanoharu River, a headstream of the Chikugo River.
Japanese style accomodations

Ryokan along the river

 Roten-buro or out side open

 air bath

 Japanese tradditiona meal

 used local ingredients
Itinerary
Leave Hotel in Kurokawa Onsen or Aso
Transfer to Yufuin
Exloring Yufuin
  Yunotsubo Avenue  → Yufuin Floral Village → Kinrinko lake
Lunch at Yufuin
Transfer to Beppu
Exploring Beppu
Option : the following site can be arranged as a option.
Mount Tsurumi
---
Where to explore
One of the most popular among ladies and International tourist visits to here are increasing. 
Main street in Yufuin located at the foot of mount Yufu. The avenue is started near JR Yufuin
Station and connected to Kinrinko lake. Through Yunotsubo Avenue, it takes about 30 minutes
on foot from JR Yufuin Station to Kinrinko lake. There are 70 shops, gift shop, galleries, curiosity
item shops as well as cafes.
Main street in Yufuin located

at the foot of mount Yufu 

70 shops, gift shop, galleries,

curiosity item shops

 Many souvenios can be found
---
Reproduced the townscape of the Cotswold region in England. The place was also used for
Harry Potter's shooting location.
Welcome to Yufuin Floral

Village

Theme area "spring of girl

Heidi in the Alps"

Reproduced the townscape

of the Cotswold region
---
One of landmark in Yufuin. Hot water gushes from the bottom of the lake, and hot steam rises from
its surface on a cold day.  The lake is located at the end of the town's main walking route, about a
kilometer and a half from the Yufuin station.
Hot water gushes from the

bottom of the lake

Hot steam rises from

its surface on a cold day

Cafe restaurant by the lake
---
Lunch at Yufuin
Yufumabushi
Yufumabushi is a local cuisine which serves really nice BUNGO Beef.
But surprisingly, the way they serve beef is not BBQ or SUKIYAKI style that are seen in
most cases, but "Yufumabushi " style which we rarely see for beef dish.
Local gourmet restaurants
There are many kind of restaurants and cafes around Kinrinko lake and at the Yunotsubo Avenue,
---
The popular hot spring town nestle at the foot of volcanos, Mt. Yufu and Mt. Tsurumi.
---
---
Option
Soaring 1375 metres into the sky, Mount Tsurumi is a breathtaking mountain overlooking
Beppu that offers some decent hiking, rare flora and outstanding vistas. Visitors can take
a ropeway 800 metres up and revel in being surrounded by acres of rolling greenery.
On clear days, you can see as far as the Kuju Mountains, a famous mountain range
that runs between Oita and Kumamoto-prefectures.
Jigoku Mushi kobo
Jigoku Mushi,  literally "hell-steaming" is an unusual cooking method found in Beppu.
It's a simple but impactful method that dates back to the Edo Period. Jigoku Mushi Kobo
features an interesting hands-on workshop where you can cook food yourself in the
searing onsen steam.
The most popular pubulic bath in Beppu.
You can enjoy various type of Onsen including the sand bath.
---
---
Lunch, to be slected from the following
Kawara Sobe
Kawara soba is a local cuisine which Soba noodles and meat are cooked together
on a Kawara (stone roof tile) and dipped into a special sauce when eating it.
Yaki curry
Yaki curry latterly means baked curry and is local cuisine in Moji which is curry with rice
topped with cheese and/or egg heated in oven. The melted cheese and soft-boiled egg
combine with the spicy curry to enhance its flavor even more.
Nagahama Ramen, Tonpei
Eel Restaurant, Chikurintei
---
Dinner at Kokura
Ekikara sanjippo yokocho
The place is located on the ground floor of JR Kokura Station. There are 8 restaurants
where local cuisines can be enjoyed.
 Tanga Yatai
---
---
---
---
Mizutaki
---
Tour results
We are offering various types of tours, and the tour results up to now are shown links below.      
Tailor-made tour     Study tour     Golf tour 
---
 HOME    About us   Our Services    Terms and Conditions
---