11 days Kyushu Tour
This tour explores throughout Kyushu and and can takes pleasure a lot of things what  
you have never experienced.
Where to Explore 
Fukuoka-city  →  Nagasaki  → Shimabara   → Unzen  →  Kumamoto  → Amakusa 
Ibusuki    → Chiran  →  Kagoshima & Sakurajima Island   → Kirishima  
Nichinan & Miyazaki  →  Hyuga   → Takachiho   →  Aso  → Okubungo region
Yufuin   →  Beppu   → Kitakyushu-city  → Fukuoka-city
---
Tour conditions 
The tour is the private tour exclusively for your group.
・Minimum number : 2 person
・Maxum number : 30 person
・Tour date : please specify the date
・Chartered vehicle is utilized as per number of person.
   (1) less than 8 person
     a chartered taxi is used with English speaking driver
     English speaking driver assist the tour as tour guide and tour attendant
   (2) more than 9 person
  a chartered bus is used with Japanese speaking driver
  English speaking guide who also works as a tour attendant is accompanied
    for assist the tour in the case of using a chartered bus
・Accommodations is selected as per your required grade, room conditions and budget
    and the location is considered sightseeing, dinner and nightlife as well.
・For making enjoyable journey, our company staff always assist during tour by communicating
    with you by a communication tool such as WhatsApp. 
---
 Travelling route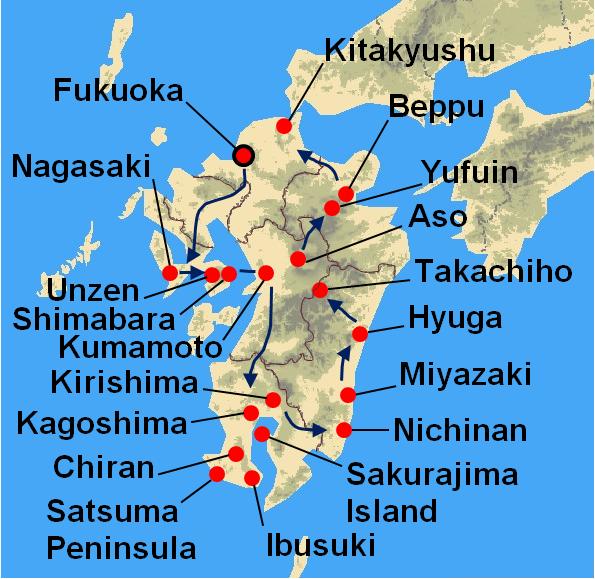 ---
Our consideration on the private tour
For enjoyable journey, the itinerary is to be planned in accordance with your own
pace and considering a physical conditions as well.
・Travelling route: Driving from destination to destination is a part of travel, so the best route is
 to be selected where you can enjoy the beautiful scenery.
・Local cuisines and special gurmet are to be included.
・Shoppings are included on the travelling route ; local market and Michino-eki for local
    specialties and fruits etc.
---
What and where to enjoy
The following contents can be included as per your preference.
・Unique experiences : Yanagawa Canal boat cruice,  Keya Cave cruise, Gunkan-jima islamd Cruise
    Amakusa cruise or dolphin watching , Sand bath, Wild horse watching, Beppu Hell tour,
    Foot bath in Beppu and Unzen Obama,  Japan's three major night view of Kitakyushu and Nagasaki
    Aso tourist tram, Sake brewery in any places in Kyushu, Fruits picking in any places in Kyushu
・Dynamic and beautiful Nature  : Amakusa, Unzen, Satsuma Peninsula,  Sakurajima Island
    Aso, Takachiho, Nichinan, Hyuga,  Okubungo, Yufuin
・Onsen experience : Shimabara, Unzen, Obama, Ibusuki,  Aso, Kurokawa, Yufuin, Beppu
・UESCO World Heritage  /  Japan's Meiji Industrial Revolution: Kitakyushu, Nagasaki, Kagoshima
・UNESCO World Heritage / Hidden Christian Sites: Nagasaki, Shimabara, Unzen, Amaku-sa
・Japanese Cultural Historical sites : Nagasaki, Shimabara, Kumamoto, Chiran, Kagoshima,
 Kirishima, Obi, Mimitsu, Takachiho, Aso, Kitakyushu-city, Fukuoka-city 
---
 Itinerary  
Day 1   Nagasaki
Itinerary
Arrive at the Fukuoka airport
Transfer to Nagasaki-city
Atomic Bomb Museum   → Ground Zero  →   Peace Park including Peace Statue &  Peace Fountain
Lunch at China Town or Nagaaki Wharf
Oura Cathedral  → Glover Garden  → Dejima
Night view of  Mount Inasa
Stay at  Nagasaki-city , Western style Hotel, included breakfast
Dinner around JR Nagasaki station, local speciality Cuisines  
---
Where to explore
One of Must visit destination in Kyushu.  The city have many oversea countries cultures and
the significant Japanese histories like no other areas.  In addition to above features, the geographical
conditions are creating fascinating tourism and now many tourists are visiting here.
Historical features  The following had exprienced in Nagasaki
 Natioanl isolation in Japan, Hidden Christian, Japan's Industry modernization and Atomic bomb
 Elegant international & domestic

 tourist harbour

 Breathtaking panoramic view

 of Nagasaki-city

 One of the World's three

 beautiful night view
---
 UNESCO World Heritage, the

 largest number of visitor here 

 Let's make World Peace and

 everyone's happiness

 Various gift shops, 

 restaurants, Café lined the street
---
 The most significant Church, 

  Mother Teresa and Pope visited

 

 Only the trading port in Japan

 during Natinal isolation              

 One of the three big China

 town in Japan 
---
Itinerary
Leave Hotel in Nagasaki
transfer to Shimabara
Shimabara Castle → Samurai Street
Lunch at  Shimabara,  local cuisine Guzoni or Rokubei
transfer to Unzen
Stay atUnzen Onsen Resort  Japanese style Hotel,  included dinner and breakfast
Dinner at Hotel : Japanese style kaiseki dinner included lacal spesiality cuisines
---
Where to explore
Located in the Shimabara peninsula, the region spread in the foot of gentle mountain
and facing to calm sea. Shimabara is consist of two cities, Shimabara-city and
Minami-Shmabara-city.
Offers various enjoyable things such as Nature, Onsen, Castle town of Shimabara-city,
Hidden Christian history as well as Local Gourmets. 
  Nature, Onsen, Castle town,

 Christianity history, Gourmets.

 Symbol of Shimabar, almost 

 rectangular flatland castle

 Even now, atmosphere in 18th 

 century is still remained    
---
Unzen is a beautiful highland Onsen Resort in Shimabara peninsula situated Unzen National Park 
The first area to be designated as a National Park in Japan and then the area has been developed
as Onsen Resort for both tourist Japanese and foreigner.
Even now, many tourist from all over the world are visiting here for enjoying Nature.
Highland Onsen Resort, different

colour create seasonal beauty

Magnificent scenery of mountain foot area & Ariake bay              

 

White smoke rising from the   ground over a wide area
Itinerary
---
Where to explore
An archipelago located west side of Kumamoto, beautiful landscape, seafood and local delicacies and 
marine activities can be enjoyed. Amakusa are connected to Shimabara by the Ferry and to Kumamoto
by the bridges.

9 inhabited islands & numerous 

islands floating on a tranquil sea

Main islands are connected with

Amakusa Five bridge, Pearl line

Hidden Cristian site of Oe

Cathesral and Sakitsu Village
---
The Castle in Amakusa Island

built in 1605

One of the most exciting

exprience in Amakusa

Amakusa Onsen

There are two Onsen,

Matsushima and Shimoda
---
It is best known for its steaming sand baths along the beach, where bathers in a yukata, 
or Japanese bathrobe
  Sand bath hall, changing room

  shower facilities

  Steam Sand bath facing to

  Kinko Bay

    Enjoy taking Steam Sand

   bath
---
 The legendary monster "Isshi" 

purported to live in the lake

 Serving cold Somen noodle,

 swim in the revloving container

  Enjoy tasting Shochu at the

  time-honored Brewery
---
 A power spot of matchmaking

 and good fortune in love.

 the southernmost point of  Satsuma peninsula

 The southernmost railway

 station in Japan
Leave Hotel in Ibusuki
Transfer to Chiran
Exploring  Chiran including Samurai Residence and Chiran Peace Museum   
Lunch at Chiran :  local cuisine of Kagoshima
Transfer to Kagoshima
Exploring : Kagoshima, Sengan-en Garden and Shoko Shuseikan
Exloring Sakurajima Island
Stay at Kirishima , Western style Hotel, included breakfast
Dinner at Kagoshima-city, local speciality Cuisines
---
Where to explore
---
---
---
Where to explore
---
Located in the center of the Kyushu mountain area where about 40km away from
Aso and is steeped in Japanese mythology.
It is the supposed site of legend where Amaterasu, the Shrine Sun Goddess, disturbed by her
brother's cruel pranks, hid herself in a cave, prompting the other gods and goddesses to try and
lure her out.
The narrow chasm cut through the rock by the Gokase River. The nearly sheer cliffs lining the gorge
are made of slow forming volcanic basalt columns which resemble the scales of a dragon where the
stone twisted and flowed as it formed.
---
Located just west of the town center, is nestled in a grove of tall cedars. During the day the shrine's 
nondescript, unpainted buildings blend in naturally with the surrounding trees. The light that filters through, brings with it an air of calm, peaceful reverence.
---
Legends of Japanese mythology. In the story, Amaterasu, the Shito sun goddess, became so outraged
by her brother's cruel pranks that she hid herself in a cave, refusing to come out and depriving the
world of her life-giving light. 
Leave Hotel in Takachiho
Transfer to Aso
Enjoy the magnificent scenery by Aso Tourist Tram
Lunch at Minami Aso ;  featured restaurant / Takamori Dengaku-no sato
Exploring Aso
  Kusaenri-ga-hama  → Mount Aso → Daikanbo
Stay at Aso, Kurokawa Onsen  or  Onsen resort Aso, Japanese style Hotel, included dinner and breakfast
Japanese style kaiseki dinner included lacal spesiality cuisines 
---
---
Itinerary
Leave Hotel in Kurokawa Onsen or Aso
Transfer to Yufuin through Okubungo
Exloring Yufuin
  Yunotsubo Avenue  → Yufuin Floral Village → Kinrinko lake
Transfer to Beppu
Lunch at Beppu ; Jigokumushi-kobo, steamed Cuisines
Exploring Beppu
Stay at  Beppu,  Western style Hotel, included breakfast
Dinner at Beppu Onsen town, local speciality Cuisines
---
Where to explore
One of the most popular among ladies and International tourist visits to here are increasing. 
 Gentle mount Yufu can be seen

 graceful Onsen Resort

 In front of JR Yufuin Station
 a elegant street appear

 70 shops, gift shops, galleries

curiosity item shops, cafes   
---
The old public outdoor mixed

bath with a thatched

The landmark in Yufuin, hot

water gushes from the bottom 

Reproduced the townscape of

the Cotswold region in England
---
The popular hot spring town nestle at the foot of volcanos, Mt. Yufu and Mt. Tsurumi.
---
---
---
---
---
---
Tour results
We are offering various types of tours, and the tour results up to now are shown links below.      
Tailor-made tour       Study tour       Golf tour 
---