Kyushu Travel Guide
Kyushu is a paradise of Japan travel like no others.
Kyushu has rich landscapes including Nature and diverse cultures including food cultures.
It has a variety of histories all over Kyushu, and Nature and Urban are harmonized.
And also, Kyushu is known as 'Onsen island' and there are many Onsen resorts to stop into
while you're travelling around.
One of our most proud things in Kyushu is Japanese cuisines and local delicacies. You can enjoy
many different local dishes using fresh and unique ingredients in various places during your travel.
Also you can meet a lot of amazing things what you have never experienced before.
---
The abundant​ local tourist information collected by our own
We have prepared tourist information shown on this site based on our own investigations by visiting
each destinations, tourist attractions, restaurants, shops, facilities and other places. Further more,
featured tourist destinations as well as numerous hidden gems shown by photos which are taken by us.
Location of Kyushu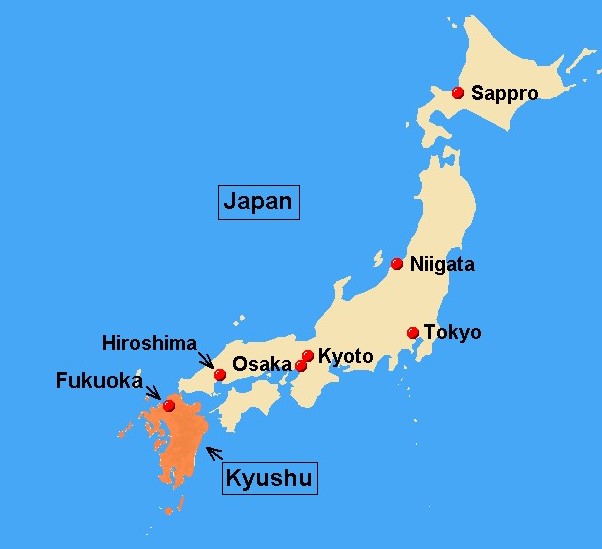 ---
Featured destinations of Kyushu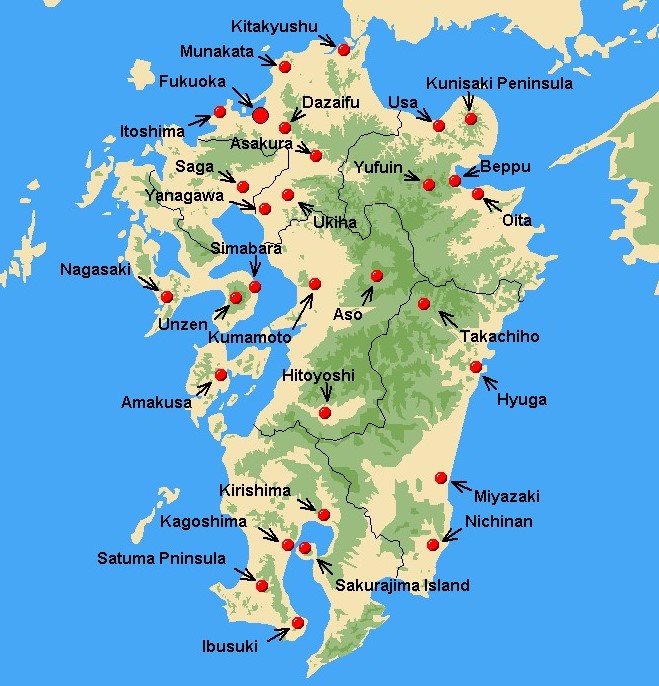 ---
Fukuoka

-city
Kitakyushu-city

Dazaifu

 The Heart of Kyushu, the

 energetic city bustling as

 the center of Kyushu's

 politics, economy

 culture and fashion

 Kitakyushu is the second

 largest city in Kyushu.

 World leading Environmental

 Future city

 Must visit place in Fukuoka-

 prefecture has 1300 years

 history, featured spot is

 Dazaifu Tenmangu Shrine
---
 The nearest Resort town

 from Fukuoka-city. The area

 is surrounded Genkai

Sea and Seburi Mountain.

 A Castle town with a

 beautiful Canals in the

 town. Canal boat cruise is

 the most exiting experience

 UNESCO World Heritage

 areas,  The Sacred Island

 Okinoshiam and Associated

 site
---
Asakura

Ukiha

Yame

 A thriving area of agriculture

 with rich nature. Harazuru

 is a Onsen Resort in

 Fukuoka-prefecture

  Blessed with nature, many

  orchards spread out in the

  Chikugo plain. Must visit

  place Yoshii-machi, the

  time-honored scenery

 The representative town of 

 Japanese Tea cultivation.

 Also the Centre of Japanese   artificial crafts.
---
​
Saga-city

Karatsu & Yobuko

Takeo & Ureshino

Known as the place where it has made a great 

contribution to the Japanese Industrial Revolution

 Karatsu was prospered from

 ancient times as an important

 trading port, Yobuko famous

 for fresh squid cuisines

Takeo is a Onsen Resort,

located west of Saga–city,

and has 1200 years history
---
Arita

Imari

Kashima & Tara

 Famous for Arita porcelain,

 one of the traditional

 handicrafts of Japan, has 

 400 years old history.

 The place known as Imari   porcelain. Okawachiyama

 porcelain  district is

 recommended to visit

Kashima is southern part of

Saga, facing to Ariake sea, 

Yutoku Inari Shrine is one of

the famous Inari shrine in Japan
---
 Many oversea countries

 cultures and the significant   Japanese histories.

 National isolation, Hidden

 Christian,  Japan's Industrial

 Modernization,  Atomic bomb

 A gentle Onsen Resort 

 situated in the Unzen National

 Park. The Resort area was

 originally developed for

 foreigners as a place close

 to Nagasaki.

 Spreads in the foot of 

 Mount Unzen and facing to

 Ariake Sea. The region offers

 various  things ; Castle town,   Onsen, Nature and UNESCO

 Hidden Christian site 
---
Hirado
 

 The city surrounded

 azure sea with breath taking

 99 islands scenery, and  

 beautiful theme park

 Huis Ten Bosch 

 North West coast of

 Nagasaki-prefecture is a

 beautiful and historic location

 full of interesting  Christian

 churches

 
---
Beppu is the Japan's most

popular Onsen Resort,

the exciting experiences

Hell tour and  Foot bath

are recommended

 A beautiful and tranquil

 Onsen Resort harmonized

 with nature. Yunotsubo

 Avenue, Kinrinko lake and

 Yufuin Floral Village are

 worth to travel

Kunisaki peninsula is located

north-east side of

Oita-prefecture ; Trekking and 

Onsen can be enjoyed.
---
Usa & Ajimu is located at the

base of Kunisaki peninsula and

spreading around Usa Shrine.

it has long been holy ground to 

both Shinto & Buddhist activities

Nakatsu is a Castle town,

Yabakei offers dynamic rock

formations at the valleys along

Yamakuni River

Okubungo is a Nature-blessed

region at Ono River basin, the

northern part is surrounded by

Aso & Kuju Mountains
---
Kumamoto-city
Aso  

 

Kumamoto is the third largest

city in Kyushu.Must visit place

is Kumamoto Castle listed on

the three great castle in Japan

Aso gives unforgettable

experiences, the active volcano

Mount Aso and world's largest caldera offer a lot of excitements

Kurokawa Onsen is one of the 

best places to enjoy the 

atmosphere of old fashioned

Onsen in Japan.
---
​
Amakusa is an archipelago

located west side of Kumamoto, beautiful landscape, seafood &

local delicacies, marine activities

Hitoyoshi is a castle town along

rapid stream Kuma river, Onsen

resort, river boat riding, steam locomotive, limestone cave.

 

Minamata is located west coast

of Kyushu and faces Amakusa

islands; beautiful landscape,

sea food, Onsen resorts 
---
Takachiho has the dynamic 

Takachiho Gorge and and the

birthplace of Japanese

mythology, Takachiho shrine

and Amano Iwato shrine

Hyuga offers spectacle art

collection of exposed Rocks

created by raging wave of

Hyuga Sea, Japanese

traditional fishery port Mimitsu

Miyazaki & Nichinan facing to

Pacific Ocean, subtropical

region; Ocean Resorts,

wild animal, historical places,

beautiful landscape
Kagoshima largest city in

Southern Kyushu and greatly

contributed modernization of

Japan. UNESCO World

Heritage site & Active volcano

Sakura-jima are to be visited.

An active strato volcano with

three peaks, Kita-dake, 

Naka-dake and still active

Minami-dake.

Ibusuki is the Onsen Resort

is most famous for Sand bath

place in Japam located at a

sand in Kinko bay. Many unique

tourist attractions in Satsuma

peninsula can be offered.
---
Chiran

Chiran called a small Kyoto

collection of Samurai houses

and gardens. Another featured

place to be visited is

Chiran Peace Museum

Kirishima is an Onsen Resort

located in the mountain foot of

Kirishima. Kirishima Shrine is

one of the most beautiful shrine

in Kyushu surrounded by forest

The southernmost Cape of

main land Japan at 1′ 00″ 

latitude. Cape Sata is home

to many sub-tropical flowers.
---
Tour results
We are offering various types of tours, and the tour results up to now are shown links below.
Tailor-made tour     Study tour     Golf tour
---
 Home  Tailor-made tours Study tours Christian Pilgrimage tours Golf tour Kyushu tour packages
---