About Kyushu
Kyushu is the third-largest and southern most of the four major islands of Japan.
Its population numbers over 15 million. Although isolated from the Japanese main stream
on Honshu, it has been an important entry point for foreign influence and culture.
During the long period of isolation from the West, the Dutch settlement at Nagasaki in Kyushu
was Japan's only legitimate connection to the outside world. Kyushu is the closest island to
Korea and China.
In the north, the cosmopolitan city of Fukuoka / Hakata is major international arrival point, and the
terminus for the Shinkansen ( Bullet train ) line from Tokyo.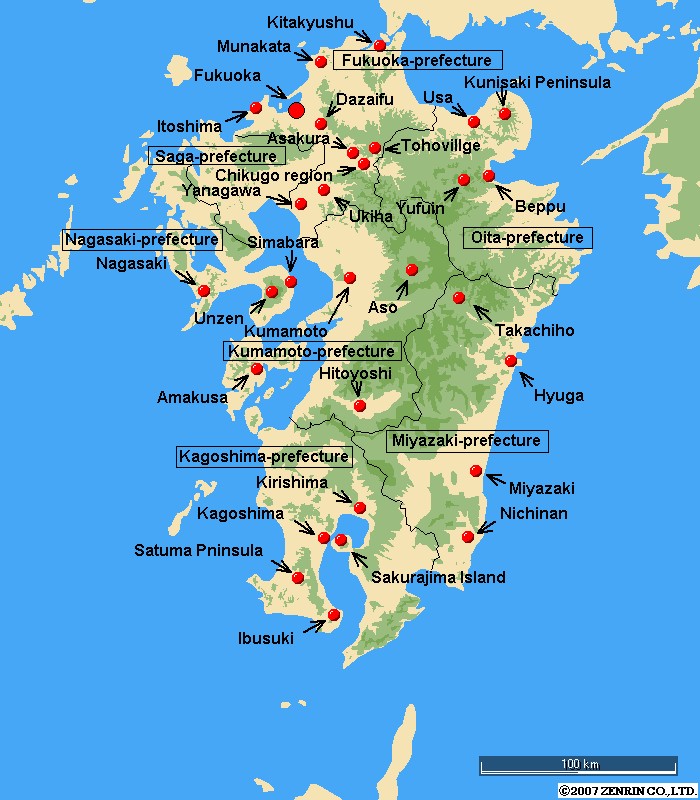 ---
Geography
The island is mountainous, and Japan's most active volcano, Mt Aso at 1,591 metres, is on Kyushu.
There are many other signs of tectonic activity, including numerous areas of hot springs.
The most famous of these are in Beppu, on the east shore, and around Mt. Aso in central Kyushu.
Kyushu is a politically defined region that consists of the seven prefectures on the island of Kyushu,
plus Okinawa Prefecture to the south.
Fukuoka-prefecture, Saga-prefecture, Nagasaki-prefecture, Oita-prefecture, Kumamoto-prefecture
Miyazaki-prefecture, Kagoshima-prefecture
---
Kyushu has rich landscapes including nature and diverse cultures

including food cultures. And also,  Kyushu is known as 'Onsen island'

and there are many Onsen resorts to stop into while you're travelling

around.
---
Kyushu is known for the best and most picturesque Onsen resorts in all of Japan.
The profusion of Onsen is due in part to Kyushu's very landscape: it's home to no less than
9 volcano groups that are responsible for creating the island's thermal waters.
---
Japanese cuisines and local delicacies
You can enjoy many different local dishes using fresh and unique

ingredients in various places during your travel.

Also you can meet a lot of amazing things what you have never

experienced before.
---
Long ago Japan was divided into many small provinces. The lords of each

province fought to take each other's territory. Castles were built by the

lords to show off their power and control their provinces. They were both

residences and military bases. They were made of wood, but used various

defensive devices for protection.
---
There are over eighty thousand Shinto shrines in Japan, and they represent

the oldest architectural style in the country. Shinto is a religion unique to

Japan. Respect for land and nature is its basic premise. Usually there is a

mirror in the case inside each Shrine. This is the symbol of Shrine's deity.
---
UNESCO World Heritages
Sites of Japan's Meiji Industrial Revolution 
Iron and Steel, Shipbuilding, and Coal Mining, are a grouping of historic sites

that played an important part in the industrialization of Japan in the Bakumatsu

and Meiji periods. Location of the site : Kitakyushu, Nakama, Saga, Omuta,
Hidden Christian Sites in the Nagasaki Region
Hidden Christian Site in Nagasaki Regions bear unique testimony to the

tradition of people and their communities who secretly transmitted their faith

in Christianity while surviving in the midst of the conventional society and its

religions during the time of prohibition. Location of the  sites are Nagasaki, Shimabara, Hirado and Amakusa.
The Sacred Island Okinoshiam and Associated site in the Munakata
In three shrines of Munakata Taisha, located in the islands of Okinshima,

Oshima and Kyushu.  From Okitsu-miya Yohaisho on Oshima, we can

worship Okinoshima from afar. And Shimbaru-Nuyama Mounded Tomb

Group is the evidence of people who nurtured the tradition of worshipping

the sacred island. Location of the sites are Munakata, Fukutsu, and Oshima.
Yama, Hoko, Yatai, float festivals in Japan  
In cities and towns throughout Japan, float festivals are held by communities

annually to pray to the gods for peace and protection from natural disasters. 

Location of the site : Kitakyushu, Fukuoka, Hita, Karatsu, Yatsushiro.
---
Festivals and Events in Kyushu
---
The tourist information on Kyushu for each prefecture and each

area are prepared and by Japan Kyushu Tourist.
---
Japan Kyushu Tourist offers various types of customized tour

package as a Tailor-made tour exclusively for you.
---
---