Kyushu Travel Guide
​Kyushu is a fascinating destination like a Treasure Chest of Japan.
We prepare the Kyushu Travel Guide for ideas and inspiration to help create
the perfect Kyushu Journey for you. 
Each featured destination are introduced by using various Photos which we have taken.
Thank you for visitiing our Kyushu Travel Guide site.
---
Prefecture map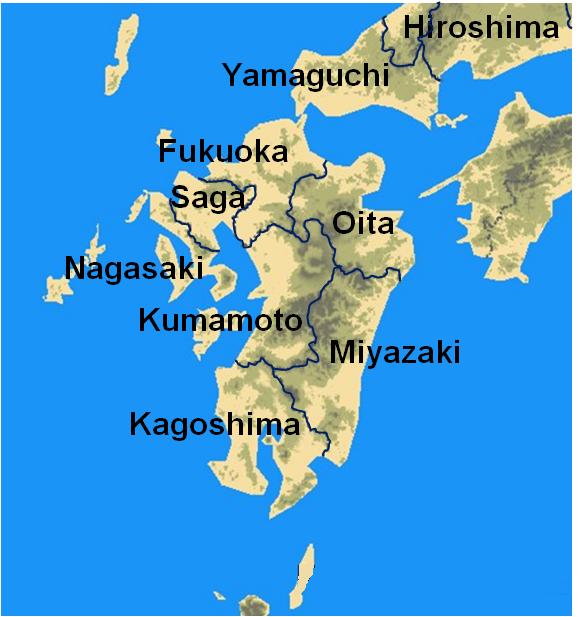 Japan's southernmost Kyushu Island consists of seven prefectures shown on the map. 
Hiroshima and Yamaguchi in Honshu Island have easy access from Fukuoka.
---
Fukuoka-prefecture

 
 

The gate way to Kyushu, and

the biggest city in Kyushu. 

The Industrial Innovation city with

many different fascinating feature

Time back to 1300 years ago

 
---
A Resort town belonging to

Genkai Quasi National Park

A beautiful canal town

Consist of Asakura, Ukiha 

Yame and Hita
---
Nagasaki-prefecture

 
 

Many foreign influenced cities

and center of world peace

Japan's first National Park,

a beautiful mountain & Onsen resort

Castle town blessed with

nature

 
 
 
Oita-prefecture

The popular hot spring town nestle

at the foot of volcanos

one of the most popular among 

International tourist visits

began to develop 1,300 years ago

as a sacred religious ground 
---
Located at the base of

Kunisaki peninsula

Consist of Nakatsu, Yabakei

and Buzen

Consist of Takeda, Kuju

and Bungo-ono
---
Kumamoto-prefecture

 
 

 a historical castle town & blessed  

with a diverse natural beauty

The world's largest caldera and

the active volcano 

Popular Onsen resort 
near Mt. Aso.

 
 
 
---
​
One of the most beautiful sea in 

Kyushu.

Exciting Kumagawa river
boat riding

West coast of Kyushu and

faces Amakusa islands 

 
---
Miyazaki-prefecture

The most popular place is

Takachiho Gorge

Enjoy nature of beautiful
coast

The spectacular beauty 
of Pacific Ocean coastline
---
Kagoshima-prefecture

the southernmost major city

in Kyushu

Enjoy nature. rich, rugged and

unique.

A rich natural world, Onsen &

Japanese Culture
---
Ibusuki

best known for its steaming sand

baths

Called littel Kyoto 
and interestingly.

 
---
| | | |
| --- | --- | --- |
| Yamaguchi-prefecture | Hiroshima-prefecture | |
| Largest blowfish market in Japan. | It has two World Heritage sites |   |
| | | |